What would happen if you could increase your income per hour and have a life?  This course will give you simple, easy-to-implement strategies so you can immediately attract more customers and enhance your life.  Whether ​you ​are ​new ​to ​Ninja ​Selling ​or ​you ​need ​a ​quick ​refresher, ​this ​3-hour ​session ​is ​perfect ​for ​you. ​ ​Taught ​by ​ ​Michael ​Fanning, ​renowned ​Certified ​Ninja ​Selling ​Instructor ​and ​Senior ​Vice ​President ​of ​Windermere ​Real ​Estate.
For More Information or to register please visit:  https://www.facebook.com/events/1126615340798283/
Posted on February 22, 2017 at 12:47 pm
Windermere DTC
Posted in
Uncategorized
With the home inventory at all time lows our team is constantly monitoring the listing activity in the local MLS – REcolorado, and some interesting observations can be made on reviewing the data over this past week.
This first graph takes a look at how new listing numbers (homes just placed on the market for the first time) compare with price reductions and failed sale attempts (withdrawn & expired listings) over the last 7 days.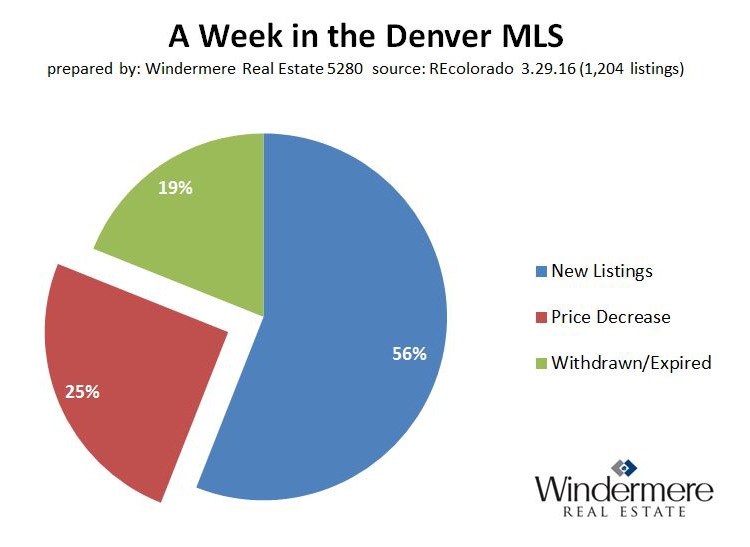 The standouts from this chart —
Only 674 new listings came on the market.
Relative to the number of new listings, nearly half of that number reduced their price.
229 listings were takes off the market because they failed to sell (roughly 1/3 the number of new listings)!
The listings that are priced well are moving very quickly and often choosing between multiple offers, but the impact of this lessens as price increases.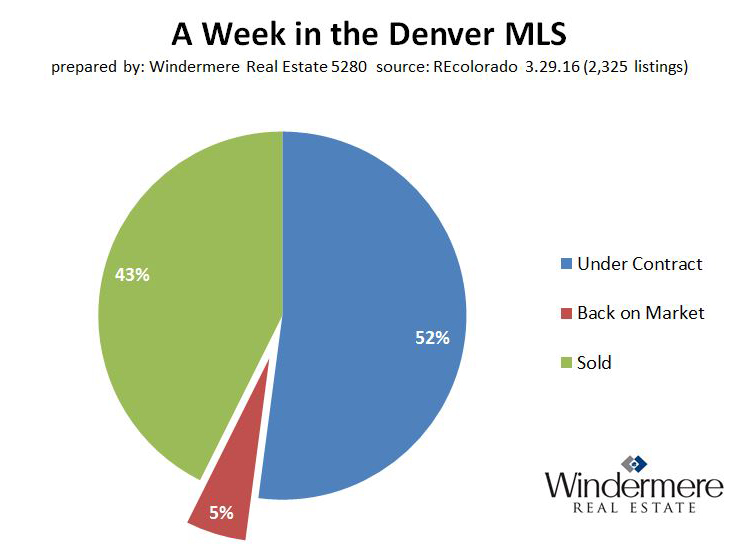 Once a listing goes under contract as it will either successfully close or go back on the market for some reason.
The data here shows that relative to the Sold listing numbers roughly 9 out of 10 are successfully closing which leaves 1 out of 10 coming back on the market.
We've seen this number fluctuate over the last 6 months, with the current numbers actually on the lower end.  This could be due to the fact that we are near month end, but some would still find it surprising given the low inventory market we find ourselves in.
Properly positioning a property within the market not only with the right price, but also an effective marketing plan and the benefits of the Windermere Certified Listing program have lowered our price reductions and expiration rate to nearly zero, while still maximizing the bottom-line return for our sellers.  To learn more, connect with one of the amazing Brokers on our team!
Getting your home ready to sell may seem like a challenge, but you know that the more appealing the house is, the more likely it is to sell quickly. Windermere Real Estate 5280 serves Denver and the south metro suburbs down to Castle Rock. We can help you with pricing, showings, and connecting with potential buyers, but what about the steps leading up to that first showing or open house? Many things, like cleaning the house and maintaining the lawn may seem obvious, but there are some more in-depth measures that you can take
Make Sure the Light is Right

Go through your home and make sure there are no missing or burned out light bulbs. You may even want to swap out bright bulbs for softer, warmer light, so that the home feels more inviting. For natural light, make sure your windows, blinds, and shades are clean so the light isn't diffused too much or reveal layers of dust.
Clean Out Your Closets

It's a fairly well-known fact that potential buyers will look in closets and cabinets to gain a better idea of how much storage space the house has. If your closets are overflowing or unorganized, the space can seem cramped, and buyers may think that you haven't taken the time to get the house ready. By removing a portion of the clothes in a closet or dishes in a cupboard (and cleaning and dusting them thoroughly) the buyer can truly see the entire storage space.
Remove Those Pet Items

It's possible that the buyers will be pet-lovers themselves, but leaving dog food sitting out or the kitty litter tray in plain view can quickly change a buyer's mind. Take the time to clean the house thoroughly and remove any traces of your pets, and arrange care for them during the showing.
A majority of potential buyers will make up their mind about your house from the moment they set foot inside, and you only have once chance to make a good first impression. By following these steps and a few others, you can get your home ready to sell, and we can make sure that it sells quickly. Contact us today!