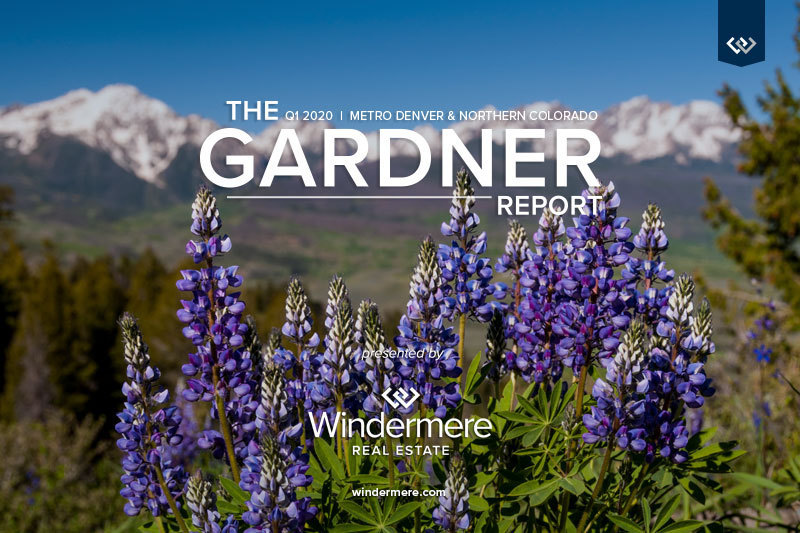 The following analysis of the Metro Denver & Northern Colorado real estate market is provided by Windermere Real Estate Chief Economist Matthew Gardner. We hope that this information may assist you with making better-informed real estate decisions. For further information about the housing market in your area, please don't hesitate to contact me.
A MESSAGE FROM MATTHEW GARDNER
Needless to say, any discussion about the U.S. economy, state economy, or housing markets in the first quarter of this year is almost meaningless given events surrounding the COVID-19 virus.
Although you will see below data regarding housing activity in the region, many markets came close to halting transactions in March and many remain in some level of paralysis. As such, drawing conclusions from the data is almost a futile effort. I would say, though, it is my belief that the national and state housing markets were in good shape before the virus hit and will be in good shape again, once we come out on the other side. In a similar fashion, I anticipate the national and regional economies will start to thaw, and that many of the jobs lost will return with relative speed. Of course, all of these statements are wholly dependent on the country seeing a peak in new infections in the relatively near future. I stand by my contention that the housing market will survive the current economic crisis and it is likely we will resume a more normalized pattern of home sales in the second half of the year.
HOME SALES
In the first quarter of 2020, 9,189 homes sold. This is an increase of 9.5% compared to the first quarter of 2019. ​
Ten counties contained in this report saw sales grow, one remained static, and one saw fewer transactions. Sales rose most in the small Park County area. There was a small drop in sales in El Paso County.
The average number of homes for sale in the quarter was down 12.9% from the same period in 2019.
Inventory levels have not improved and, given the fallout from COVID-19, it is hard to put a date on when we will see a resumption of normal activity in the housing market. Though sales are sure to return, we may well see a gradual increase in listings rather than a surge.
Home prices continue to trend higher, with the average home price in the region rising 6.7% year-over-year to $477,495.
Interest rates remain at very competitive levels and are certain to remain well below 4% for the balance of the year. This can allow prices to continue to rise but much will be dependent on the fallout of COVID-19.
Appreciation was again strongest in Clear Creek County, where prices rose a remarkable 27.1%. This market is small though and subject to wild swings, so this jump is not surprising. We also saw strong growth in Park County, which rose 21.8%. Home prices rose by double digits in an additional three counties.
Affordability remains an issue in many Colorado markets, which could act as a modest headwind to ongoing price growth.
DAYS ON MARKET
The average number of days it took to sell a home in the markets contained in this report rose by only one day compared to the first quarter of 2019.
It took an average of 46 days to sell a home in the region.
The amount of time it took to sell a home dropped in six counties and rose in six counties compared to the first quarter of 2019.
The Colorado housing market was performing well before the onset of the pandemic and is likely to resume reasonable performance once we resume normal operations. That said, it will be interesting to see if home sellers or buyers are the first to reengage.
CONCLUSIONS
This speedometer reflects the state of the region's real estate market using housing inventory, price gains, home sales, interest rates, and larger economic factors.
Given the current economic environment, I have decided to freeze the needle in place until we see
a restart in the economy. Once we have resumed "normal" economic activity, there will be a period of adjustment with regard to housing. Therefore, it is appropriate to wait until later in the year to offer my opinions about any quantitative impact the pandemic will have on the housing market.
ABOUT MATTHEW GARDNER
As Chief Economist for Windermere Real Estate, Matthew Gardner is responsible for analyzing and interpreting economic data and its impact on the real estate market on both a local and national level. Matthew has over 30 years of professional experience both in the U.S. and U.K.
In addition to his day-to-day responsibilities, Matthew sits on the Washington State Governors Council of Economic Advisors; chairs the Board of Trustees at the Washington Center for Real Estate Research at the University of Washington; and is an Advisory Board Member at the Runstad Center for Real Estate Studies at the University of Washington where he also lectures in real estate economics.
Posted on April 24, 2020 at 6:11 pm
Windermere Colorado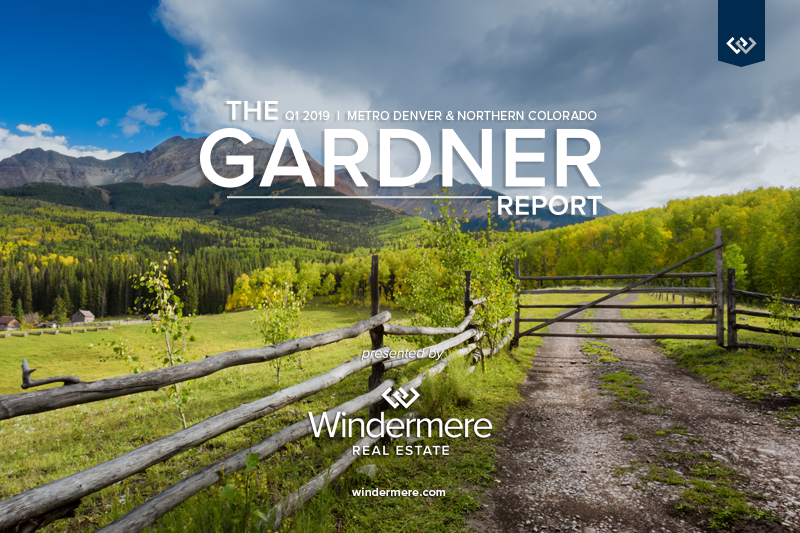 The following analysis of the Metro Denver & Northern Colorado real estate market (which now includes Clear Creek, Gilpin, and Park counties) is provided by Windermere Real Estate Chief Economist Matthew Gardner. We hope that this information may assist you with making better-informed real estate decisions. For further information about the housing market in your area, please don't hesitate to contact your Windermere agent.
ECONOMIC OVERVIEW
Colorado's economy continues to grow with the addition of 44,800 new non-agricultural jobs over the past 12 months. This represents a reasonable growth rate of 1.7%. As stated in last quarter's Gardner Report, we continue to see a modest slowdown in employment gains, but that's to be expected at this stage of the business cycle. I predict that employment growth in Colorado will pick back up as we move through the year, adding a total of 70,000 new jobs in 2019, which represents a growth rate of 2.6%.
In February, the state unemployment rate was 3.7%, up from 2.9% a year ago. The increase is essentially due to labor force growth, which rose by more than 84,000 people over the past year. On a seasonally adjusted basis, unemployment rates in all the markets contained in this report haven't moved much in the past year, but Boulder saw a modest drop (2.7%), and the balance of the state either remained at the same level as a year ago or rose very modestly.
HOME SALES
In the first quarter of 2019, 11,164 homes sold — a drop of 3% compared to the first quarter of 2018 and down 13.5% from the fourth quarter of last year. Pending sales in the quarter were a mixed bag. Five counties saw an increase, but five showed signs of slowing.
The only market that had sales growth was Adams, which rose 4.9%. The rest of the counties contained in this report saw sales decline, with a significant drop in the small Park County area.
I believe the drop in the number of home sales is partially due to the significant increase in listings (+45.6%), which has given would-be home buyers more choice and less need to act quickly.
As mentioned above, inventory growth in the quarter was significant, but I continue to believe that the market will see sales rise. I expect the second half of the year to perform better than the first.
HOME PRICES
Home prices continue to trend higher, but the rate of growth is tapering. The average home price in the region rose just 2.1% year-over-year to $456,243. Home prices were .3% higher than in the fourth quarter of 2018.
I anticipate that the drop in interest rates early in the year will likely get more buyers off the fence and this will allow prices to rise.
Appreciation was again strongest in Park County, where prices rose 21.9%. We still attribute this rapid increase to it being a small market. Only Clear Creek County experienced a drop in average home price. Similar to Park County, this is due to it being a very small market, making it more prone to significant swings.
Affordability remains an issue in many Colorado markets but that may be offset by the drop in interest rates.
DAYS ON MARKET
The average number of days it took to sell a home in Colorado rose five days compared to the first quarter of 2018.
The amount of time it took to sell a home dropped in two counties — Gilpin and Park — compared to the first quarter of 2018. The rest of the counties in this report saw days-on-market rise modestly with the exception of the small Clear Creek market, which rose by 26 days.
In the first quarter of 2019, it took an average of 42 days to sell a home in the region, an increase of four days compared to the final quarter of 2018.
Job growth drives housing demand, but buyers are faced with more choice and are far less frantic than they were over the past few years. That said, I anticipate the late spring will bring more activity and sales.
CONCLUSIONS
This speedometer reflects the state of the region's real estate market using housing inventory, price gains, home sales, interest rates, and larger economic factors.
For the first quarter of 2019, I have moved the needle a little more in favor of buyers. I am watching listing activity closely to see if we get any major bumps above the traditional increase because that may further slow home price growth; however, the trend for 2019 will continue towards a more balanced market.
As Chief Economist for Windermere Real Estate, Matthew Gardner is responsible for analyzing and interpreting economic data and its impact on the real estate market on both a local and national level. Matthew has over 30 years of professional experience both in the U.S. and U.K.
In addition to his day-to-day responsibilities, Matthew sits on the Washington State Governors Council of Economic Advisors; chairs the Board of Trustees at the Washington Center for Real Estate Research at the University of Washington; and is an Advisory Board Member at the Runstad Center for Real Estate Studies at the University of Washington where he also lectures in real estate economics.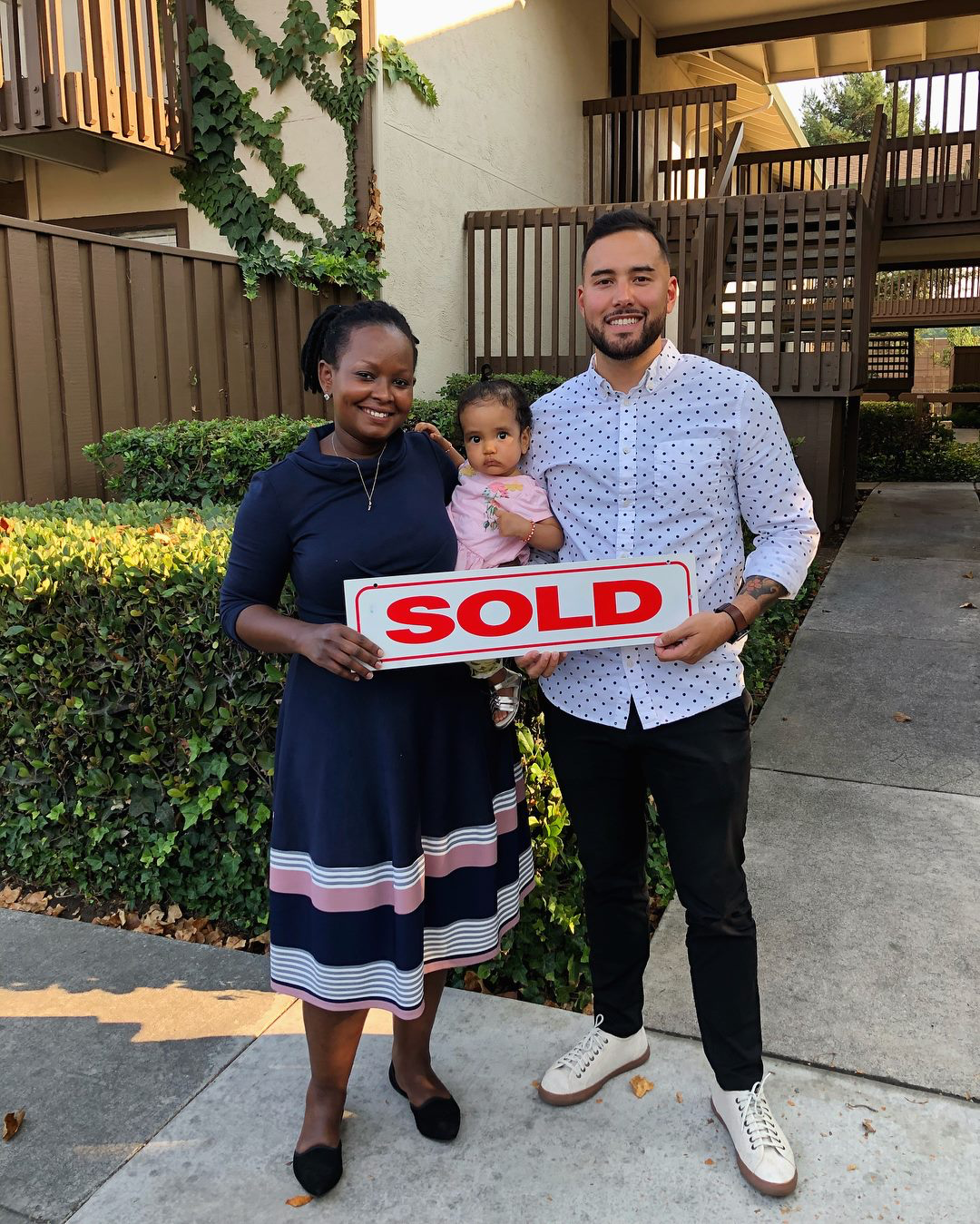 Owning a home provides a sense of security, but the process of building towards homeownership can be overwhelming. There are obstacles that can get in the way of even the most diligent prospective buyer. For Zaharra Karungi, there were dozens of opportunities to see her dream of buying a home for herself and her daughter waylaid. But with hard work, a thoughtful lender, a baseball game, and a determined Windermere agent, Karungi is now a proud homeowner in Antioch, California.
Windermere agent James Quintero didn't suspect he'd walk away with a new client when he attended "Windermere Real Estate Agent Appreciation Day" at an Oakland Athletics baseball game earlier this year. But that's exactly what happened when he ran into mortgage lender Bret Henly who told him about someone special he was working with by the name of Zaharra Karungi.
Karungi's pathway to homeownership was a winding one. Arriving from Uganda at the age of 25 with the goal of studying to become a nurse, Karungi began her time in the United States with next to nothing. A generous friend allowed her to stay in their walk-in closet for eight months, but Karungi brought with her little more than a few changes of clothes and basic necessities. While studying for her nursing degree, Karungi babysat and worked odd jobs to afford her continuing education, finally emerging as a certified vocational nurse in 2013. Now a single mother with a precocious 10-month-old daughter named Victoria, Karungi was in search of the next step of security in pursuing her American Dream: owning a home.
Finding herself frustrated with the agent she'd been working with, and outbid on multiple homes, Karungi was connected with Windermere agent James Quintero with the assistance of Henly. After attending an open house at an Antioch, CA, condo, Quintero helped Karungi make a well-constructed offer to the sellers. Despite two other offers, her bid was chosen. At Quintero's behest, the sellers took extra care to ensure the home was unimpeachably safe for a 10-month-old like Victoria.
On August 9 of this year, Karungi received the keys to her new two-bedroom, two-bathroom condo – the same day that she officially gained her United States citizenship. Owning a home provides a sense of security and confidence, knowing that whatever happens, you have a refuge where you lay your head at night. For Zaharra Karungi it was a long time coming.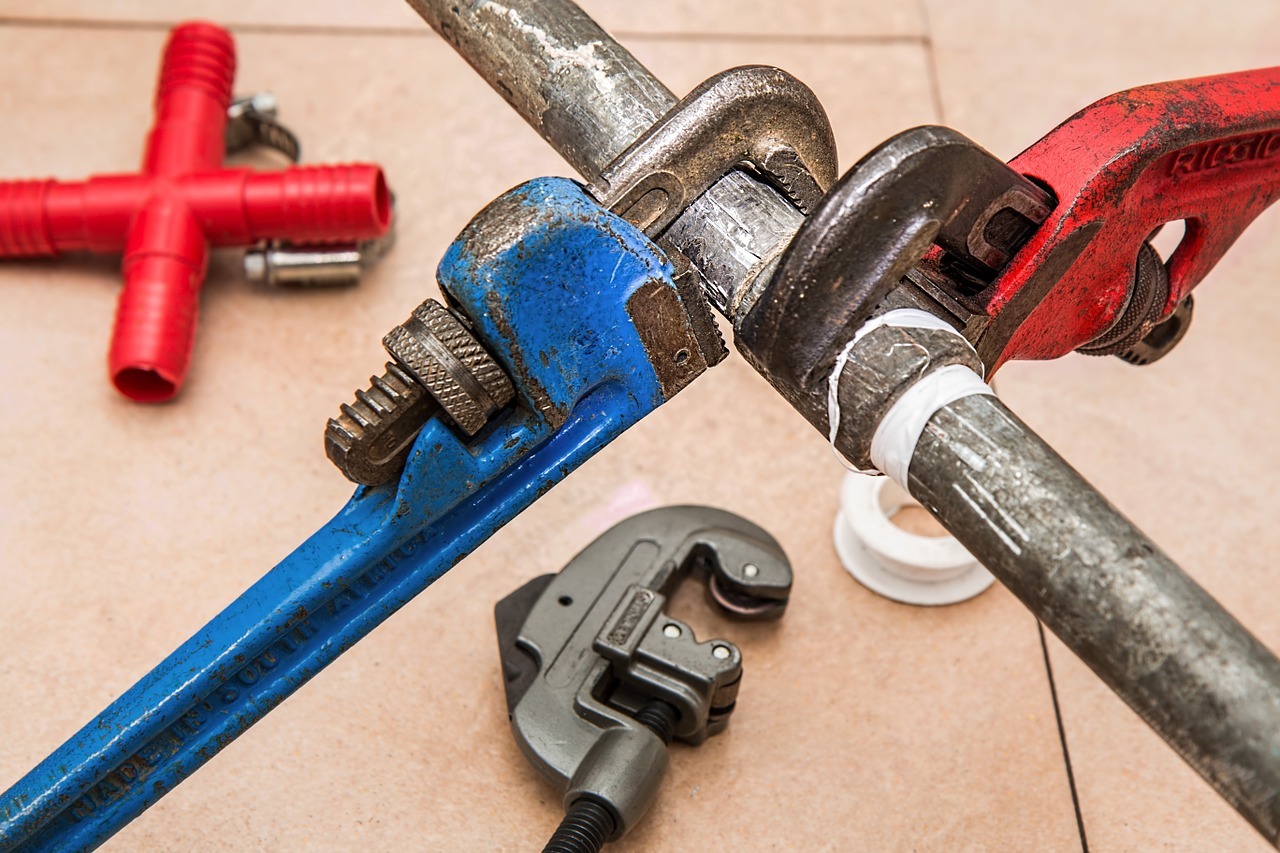 For many people, a home inspection is a hurdle that has to be overcome during the process of buying or selling a home. But, in fact, it can be a useful tool for buyers, sellers or anyone who plans to get the greatest possible value from their home.
Find out if the house you are selling has "issues"
When you're selling a house, a pre-sale inspection can be particularly useful. By uncovering any potential problems your house may have, an inspection can give you an opportunity to address them before your first prospective buyer arrives.
In any market, a pre-sale inspection can give your home a competitive edge. Potential buyers are likely to find the kind of detailed information an inspection provides reassuring—and are encouraged to give your home a closer look.
Get to know a house before you buy it
A home is a major investment and, for many people, the greatest financial asset they have. With so much at stake, it makes sense to do what you can to protect your financial interest. Getting an inspection is a smart, simple way to do just that.
When you make a written offer on a home, insist that the offer provide that your contract is contingent on a home inspection conducted by a qualified inspector. You'll have to pay for the inspection yourself, but an investment of a few hundred dollars could save you thousands of dollars and years of headaches. If you're satisfied with the results of the inspection and are assured that the home you're purchasing is in good shape, you can proceed with your transaction, confident that you are making a smart purchase.
When does a home inspection make sense?
In addition to routine maintenance and pre-sale inspections, there are a number of circumstances in which a home inspection could greatly benefit a homeowner. If you are not sure, here are a few simple questions to ask yourself:
· Was your home inspected when you bought it? If not, an inspection would be beneficial even if your home was a new construction at sale.
· Are you an older homeowner who plans to stay in your home?  If so, it makes sense to hire a professional who can inspect difficult-to-reach areas and point out maintenance of safety issues.
· Do you have a baby on the way or small children? An inspection can alert you to any potential safety issues that could possibly affect a growing family, such as mold, lead or structural problems. If mold or lead is present, be sure to rely on technicians or labs with specialized training in dealing with these conditions.
· Are you buying a home that's under construction? You may want to hire an inspector early on and schedule phased inspections to protect your interest and ensure that the quality of construction meets your expectations.
What doesn't your home inspection cover?
For a variety of reasons, some homes will require special inspections that are not covered by a typical home inspection. A specialty inspection might include such items as your home's sewer scope, septic system, geotechnical conditions (for homes perched on steep slopes or where there are concerns regarding soil stability) or underground oil storage tank. If you have any questions about whether or not your home needs a specialty inspection, talk to your real estate agent.
Hire a professional
If you decide to hire a home inspector, be sure they're licensed in your state. They should be able to provide you with their license number, which you can use to verify their status with the appropriate government agency. It's also helpful to ask for recommendations from friends and family members. Even among licensed and qualified home inspectors, there can be a difference in knowledge, performance and communication skills, so learn what you can before you hire a home inspector to ensure that you get the detailed inspection that you want.
What to ask your home inspector
Ask the right questions to make sure you are hiring the right professional for the job.
What does your inspection cover?
Insist that you get this information in writing. Then make sure that it's in compliance with state requirements and includes the items you want to be inspected.
How long have you been in the business?
Ask for referrals, especially with newer inspectors.
Are you experienced in residential inspections?
Residential inspection in a unique discipline with specific challenges, so it's important to make sure the inspector is experienced in this area.
Do you make repairs or make improvements based on inspection?
Some states and/or professional associations allow the inspector to perform repair work on problems uncovered in an inspection. If you're considering engaging your inspector to do repairs, be sure to get referrals.
How long will the inspection take?
A typical single-family dwelling takes two to three hours.
How much will it cost?
Costs can vary depending upon a variety of things, such as the square footage, age, and foundation of the house.
What type of report will you provide and when will I get it?
Ask to see samples to make sure you understand his or her reporting style. Also, make sure the timeline works for you.
Can I be there for the inspection?
This could be a valuable learning opportunity. If your inspector refuses, this should raise a red flag.
Are you a member of a professional home inspector association? What other credentials do you hold?
Ask to see their membership ID; it provides some assurance.
Do you keep your skills up to date through continuing education?
An inspector's interest in continuing education shows a genuine commitment to performing at the highest level. It's especially important in older homes or homes with unique elements.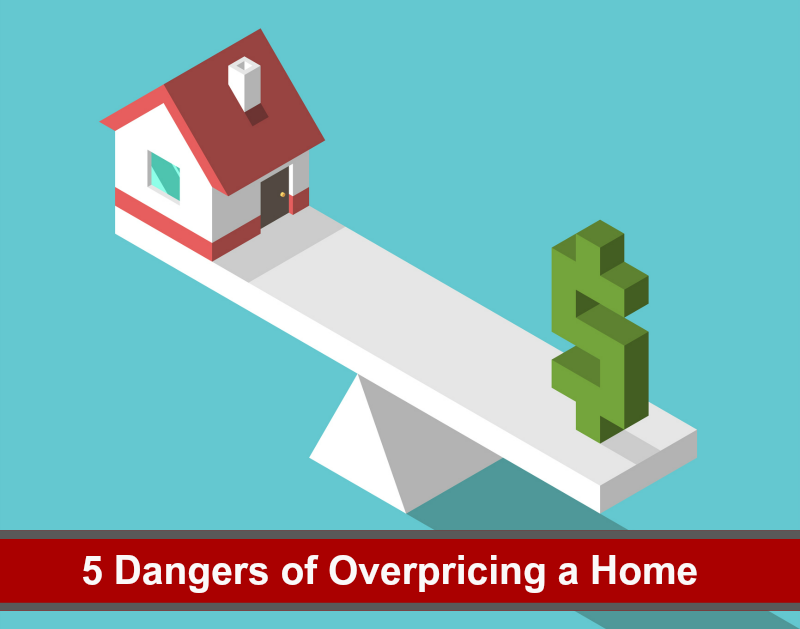 It is still a great time to be a seller, but in much of the Western U.S., the local real estate market has begun to soften. With significant increases in inventory, buyers now have more choices and less sense of urgency. If you are thinking about selling your home, pricing it correctly the first time is critical. Here's why:
If you overprice your home, it won't show up in some search results.

Buyers search for homes using the parameters they desire. Price range is one of the most critical. If you set an unrealistic price of $850,000 for your home, all the buyers searching for homes up to $825,000 will fail to see your property in their search results.

An overpriced home attracts the wrong buyer.

An overpriced home will not compare favorably with the realistically-valued homes in a buyer's price bracket. If your home is missing the amenities, square footage or other features of homes within the price range you've placed it in it won't sell.

Overpriced homes linger on the market and risk becoming "stale".

The interest in a home is always highest when the listing first hits the market. When an overpriced home goes unsold for a long period of time buyers often wonder what is wrong with the property. When a buyer moves on from a listing they rarely come back, even if you drop the price.

You run the risk of getting less for your home than if you priced it correctly the first time.

A Zillow study showed that homes that linger on the market tend to sell for significantly less than their listing price. When a home sits on the market for an extended period of time, buyers feel they have lots of room to negotiate.

The longer your home remains on the market, the more expenses you incur.

Every month your home goes unsold you put out money for mortgage payments, utilities and other home expenses that you will never recover.
Setting a realistic price for your home from the start is critical. If you're thinking of selling, our highly trained experts at Windermere Real Estate can provide you with a comprehensive pricing analysis based on current market conditions.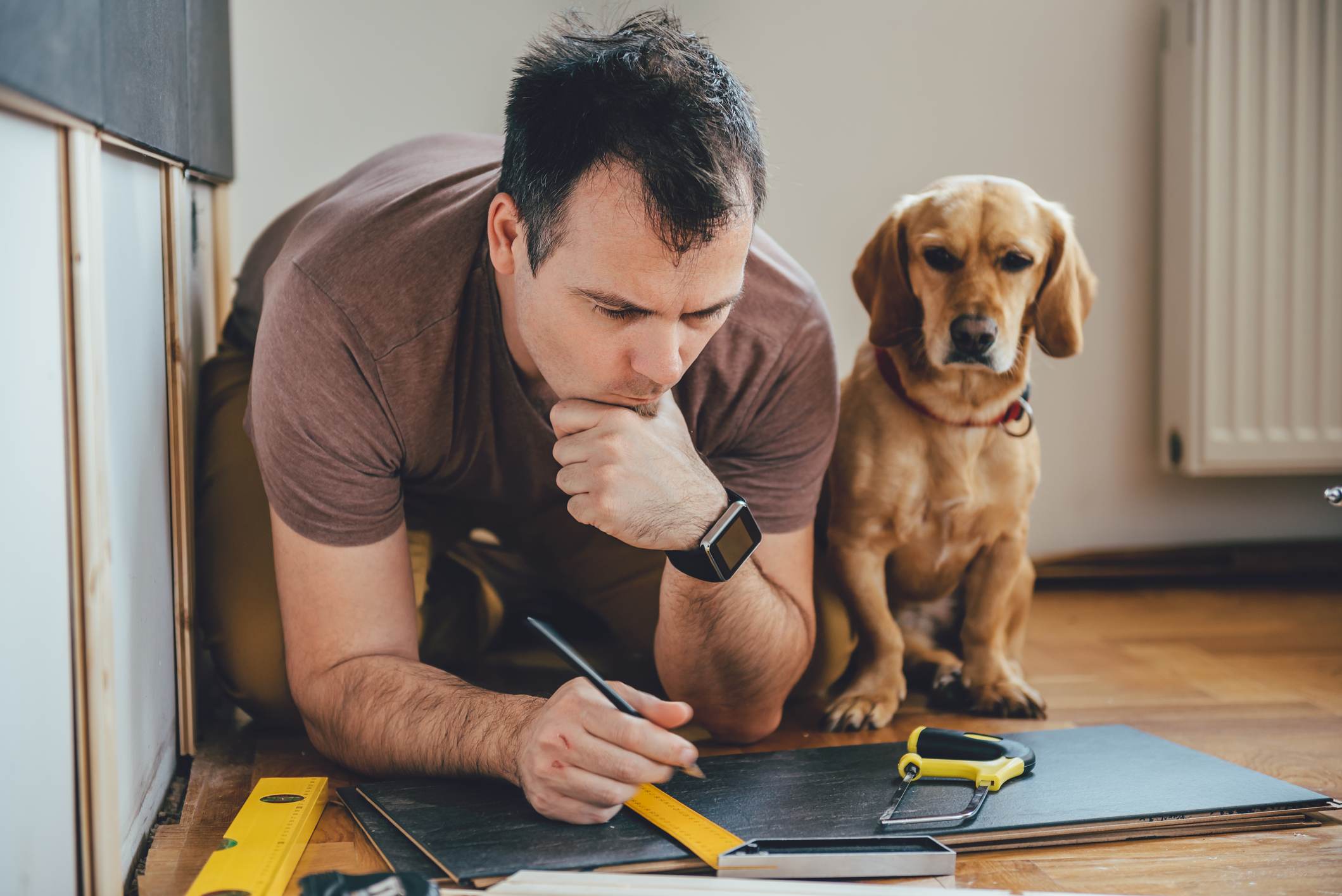 When dissatisfaction with your current home strikes, it can be exciting to launch into a plan for a new addition. A new living room, bedroom, or more can add value to your home while improving your quality of life.
On the other hand, even a modest addition can turn into a major construction project, with architects and contractors to manage, construction workers traipsing through your home, hammers pounding, and sawdust everywhere. And although new additions can be a very good investment, the cost-per-square-foot is typically more than building a new home, and much more than buying a larger existing home.
Define your needs
To determine if an addition makes sense for your particular situation, start by defining exactly what it is you want and need. By focusing on core needs, you won't get carried away with a wish list that can push the project out of reach financially.
If it's a matter of needing more space, be specific. For example, instead of just jotting down "more kitchen space," figure out just how much more space is going to make the difference, e.g., "150 square feet of floor space and six additional feet of counter space."
If the addition will be for aging parents, consult with their doctors or an age-in-place expert to define exactly what they'll require for living conditions, both now and over the next five to ten years.
Types of additions
Bump-out addition—"Bumping out" one or more walls to make a first-floor room slightly larger is something most homeowners think about at one time or another. However, when you consider the work required, and the limited amount of space created, it often figures to be one of your most expensive approaches.
First-floor addition—Adding a whole new room (or rooms) to the first floor of your home is one of the most common ways to add a family room, apartment or sunroom. But this approach can also take away yard space.
Dormer addition—For homes with steep rooflines, adding an upper floor dormer may be all that's needed to transform an awkward space with limited headroom. The cost is affordable and, when done well, a dormer can also improve the curb-appeal of your house.
Second-story addition—For homes without an upper floor, adding a second story can double the size of the house without reducing surrounding yard space.
Garage addition—Building above the garage is ideal for a space that requires more privacy, such as a rentable apartment, a teen's bedroom, guest bedroom, guest quarters, or a family bonus room.
Permits required
You'll need a building permit to construct an addition—which will require professional blueprints. Your local building department will not only want to make sure that the addition adheres to the latest building codes, but also ensure it isn't too tall for the neighborhood or positioned too close to the property line. Some building departments will also want to ask your neighbors for their input before giving you the go-ahead.
Requirements for a legal apartment
While the idea of having a renter that provides an additional stream of revenue may be enticing, the realities of building and renting a legal add-on apartment can be sobering. Among the things you'll need to consider:
Special permitting—Some communities don't like the idea of "mother-in-law" units and therefore have regulations against it or zone-approval requirements.
Separate utilities—In many cities, you can't charge a tenant for heat, electricity, and water unless utilities are separated from the rest of the house (and separately controlled by the tenant).
ADU Requirements—When building an "accessory dwelling unit" (the formal name for a second dwelling located on a property where a primary residence already exists), building codes often contain special requirements regarding emergency exists, windows, ceiling height, off-street parking spaces, the location of main entrances, the number of bedrooms, and more.
In addition, renters have special rights while landlords have added responsibilities. You'll need to learn those rights and responsibilities and be prepared to adhere to them.
Average costs
The cost to construct an addition depends on a wide variety of factors, such as the quality of materials used, the laborers doing the work, the type of addition and its size, the age of your house and its current condition. For ballpark purposes, however, you can figure on spending about $200 per square foot if your home is located in a more expensive real estate area or about $100 per foot in a lower-priced market.
You might be wondering how much of that money your efforts might return if you were to sell the home a couple years later? The answer to that question depends on the aforementioned details, but the average "recoup" rate for a family room addition is typically more than 80 percent.
The bottom line
While you should certainly research the existing-home marketplace before hiring an architect to map out the plans, building an addition onto your current home can be a great way to expand your living quarters, customize your home, and remain in the same neighborhood.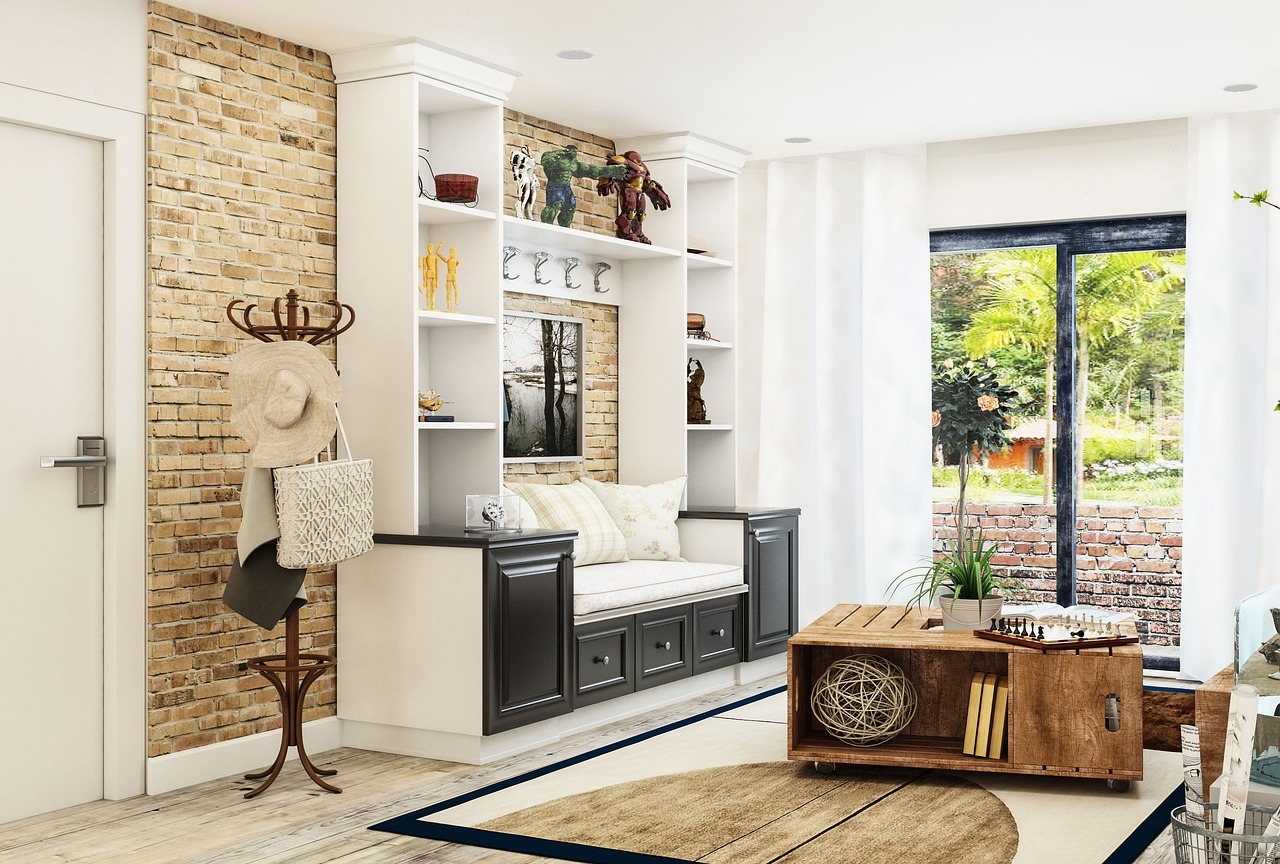 It's sometimes said that the limitations of a house are what help make it a home. For many, however, it is a point of pride to accept only the finest in their new residence. How can you find the balance between cultivating a lived-in home with personality and quirks versus a house with cutting-edge amenities that improve quality of life? To get to the bottom of that, we gathered a list six keys to consider when selecting and developing the home of your dreams:
The neighborhood
Surprisingly, one of the biggest factors in choosing a new home isn't the property itself, but rather the surrounding neighborhood. While new homes occasionally spring up in established communities, most are built in new developments. The settings are quite different, each with their own unique benefits.
Older neighborhoods often feature tree-lined streets; larger property lots; a wide array of architectural styles; easy walking access to mass transportation, restaurants and local shops; and more established relationships among neighbors.
New developments are better known for wider streets and quiet cul-de-sacs; controlled development; fewer aboveground utilities; more parks; and often newer public facilities (schools, libraries, pools, etc.). There are typically more children in newer communities, as well.
Consider your daily work commute, too. While not always true, older neighborhoods tend to be closer to major employment centers, mass transportation and multiple car routes (neighborhood arterials, highways and freeways).
Design and layout
If you like Victorian, Craftsman or Cape Cod style homes, it used to be that you would have to buy an older home from the appropriate era. But with new-home builders now offering modern takes on those classic designs, that's no longer the case. There are even modern log homes available.
Have you given much thought to your floor plans? If you have your heart set on a family room, an entertainment kitchen, a home office and walk-in closets, you'll likely want to buy a newer home—or plan to do some heavy remodeling of an older home. Unless they've already been remodeled, most older homes feature more basic layouts.
If you have a specific home-décor style in mind, you'll want to take that into consideration, as well. Professional designers say it's best if the style and era of your furnishings match the style and era of your house. But if you are willing to adapt, then the options are wide open.
Materials and craftsmanship
Homes built before material and labor costs spiked in the late 1950s have a reputation for higher-grade lumber and old-world craftsmanship (hardwood floors, old-growth timber supports, ornate siding, artistic molding, etc.).
However, newer homes have the benefit of modern materials and more advanced building codes (copper or polyurethane plumbing, better insulation, double-pane windows, modern electrical wiring, earthquake/ windstorm supports, etc.).
Current condition
The condition of a home for sale is always a top consideration for any buyer. However, age is a factor here, as well. For example, if the exterior of a newer home needs repainting, it's a relatively easy task to determine the cost.  But if it's a home built before the 1970s, you have to also consider the fact that the underlying paint is most likely lead0based, and that the wood siding may have rot or other structural issues that need to be addressed before it can be recoated.
On the flip side, the mechanicals in older homes (lights, heating systems, sump pump, etc.) tend to be better built and last longer.
Outdoor space
One of the great things about older homes is that they usually come with mature trees and bushes already in place. Buyers of new homes may have to wait years for ornamental trees, fruit trees, roses, ferns, cacti and other long-term vegetation to fill in a yard, create shade, provide privacy, and develop into an inviting outdoor space. However, maybe you're one of the many homeowners who prefer the wide-open, low-maintenance benefits of a lightly planted yard.
Car considerations
Like it or not, most of us are extremely dependent on our cars for daily transportation. And here again, you'll find a big difference between newer and older homes. Newer homes almost always feature ample off-street parking: usually a two-car garage and a wide driveway. An older home, depending on just how old it is, may not offer a garage—and if it does, there's often only enough space for one car. For people who don't feel comfortable leaving their car on the street, this alone can be a determining factor.
Finalizing your decision
While the differences between older and newer homes are striking, there's certainly no right or wrong answer. It is a matter of personal taste, and what is available in your desired area. To quickly determine which direction your taste trends, use the information above to make a list of your most desired features, then categorize those according to the type of house in which they're most likely to be found. The results can often be telling.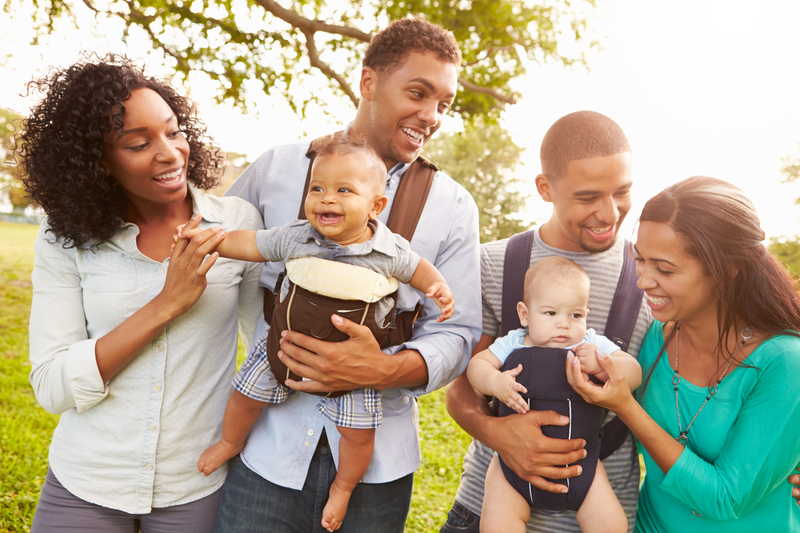 When making an important decision like buying a new home, personal circumstances are often a driving force. Whether you are a first-time homebuyer, need more space for your growing family, downsizing to fit an empty nest, or looking for a retirement property, finding the right information, the right real estate agent, and the right properties that fit your needs are all important parts of that process. Based on recent studies by the National Association of REALTORS®on generational trends, we can identify the best resources to help you in any phase of your life.
Among all generations, the first step most buyers take when searching for a home is online. Younger generations tend to find the home they eventually purchase online, while older generations generally find the home they purchase through their real estate agent.
Across generations, home ownership still represents a significant step in achieving the American Dream. According to a study by LearnVest, an online financial resource, 77 percent of those surveyed believed that buying a home of their own was, "first and foremost in achieving the American Dream".
How that dream manifests is different for those who have grown up in different eras.
Millennials:
1980-2000
Also known as Generation Y or the Echo Boomers because this generation almost equals the baby boomers in population. This age group is the second largest group of recent homebuyers, representing 28 percent according to the National Association of REALTORS. 79 percent of homebuyers in this age are purchasing their first home. According to the 2012 Trulia American Dream Study, 93 percent of renters in this generation plan on purchasing a home someday.
When considering a home purchase, Millennials (and some Generation X buyers) place a high value on convenience to work, affordability, and the quality of school district. This generation is the most likely to choose an urban center as the location of their first home. According to market research by Gfk Roper, this group is most interested in their home as a social hub, with a focus on entertainment and amenities.
When looking for a real estate agent, Millennials are most likely to looks to friends and family for a referral. They generally place a high value on an agent's honesty and trustworthiness because they are often relying on their agent to walk them through the home purchase process for the first time.
Generation X: 
1965-1979
As the largest group of recent homebuyers, the LearnVest findings suggest that 72 percent of Americans in this generation are already homeowners. They also represent the largest group of home sellers, with a substantial percentage of the group looking to upgrade their home to accommodate their growing families or increase investment. Experts in the real estate industry expect this group to lead in the recovered real estate market.
Generation X households are more likely to have a dual income, with both adult members in the household working. According to a study by GfK Roper, a market research company, this generation placed state-of-the-art kitchens at the top of their priorities, as well as large closets and amenities for organization, since many Gen Xers have children living in their homes. They are less concerned about formality in their home and have less interest in formal dining and living rooms.
Baby Boomers:
1946-1964
Interestingly enough, the NAR study finds that as the age of the homebuyer increases, the age of the home being purchased declines. Baby boomers and older buyers are looking for newer construction, with less need for renovations or large maintenance issues. This generation ranks state-of-the-art kitchens, whirlpool baths, walk-in closets, and hobby spaces high on their list of must-haves, according to GfK Roper.
The boomer generation is also looking to the future for both themselves and their aging parents, "fourteen percent of homebuyers over the age of 48 are looking to purchase senior-related homes, for themselves or others" according to the NAR study. Boomer parents are becoming accustomed to (or preparing for) an empty nest, so this group may be downsizing or looking for a home that specifically fits their needs.
Silent Generation:
1925-1945
This generation of buyers places a bigger emphasis on finding a home closer to friends, family, and health facilities. While this generation uses the Internet to find their home in the early stages of a home search, they work more directly with a trusted real estate agent to find the home that specifically fits their needs. A home purchase for members of this generation will likely not be a first-time experience so they are less willing to compromise on the price, size, or condition of a home.
This generation is generally more satisfied with the homebuying and selling process because they have been through it before and know what to expect. According to the Trulia American Dream study, this group is also most likely to have realistic assumptions about the cost of a home and mortgage.