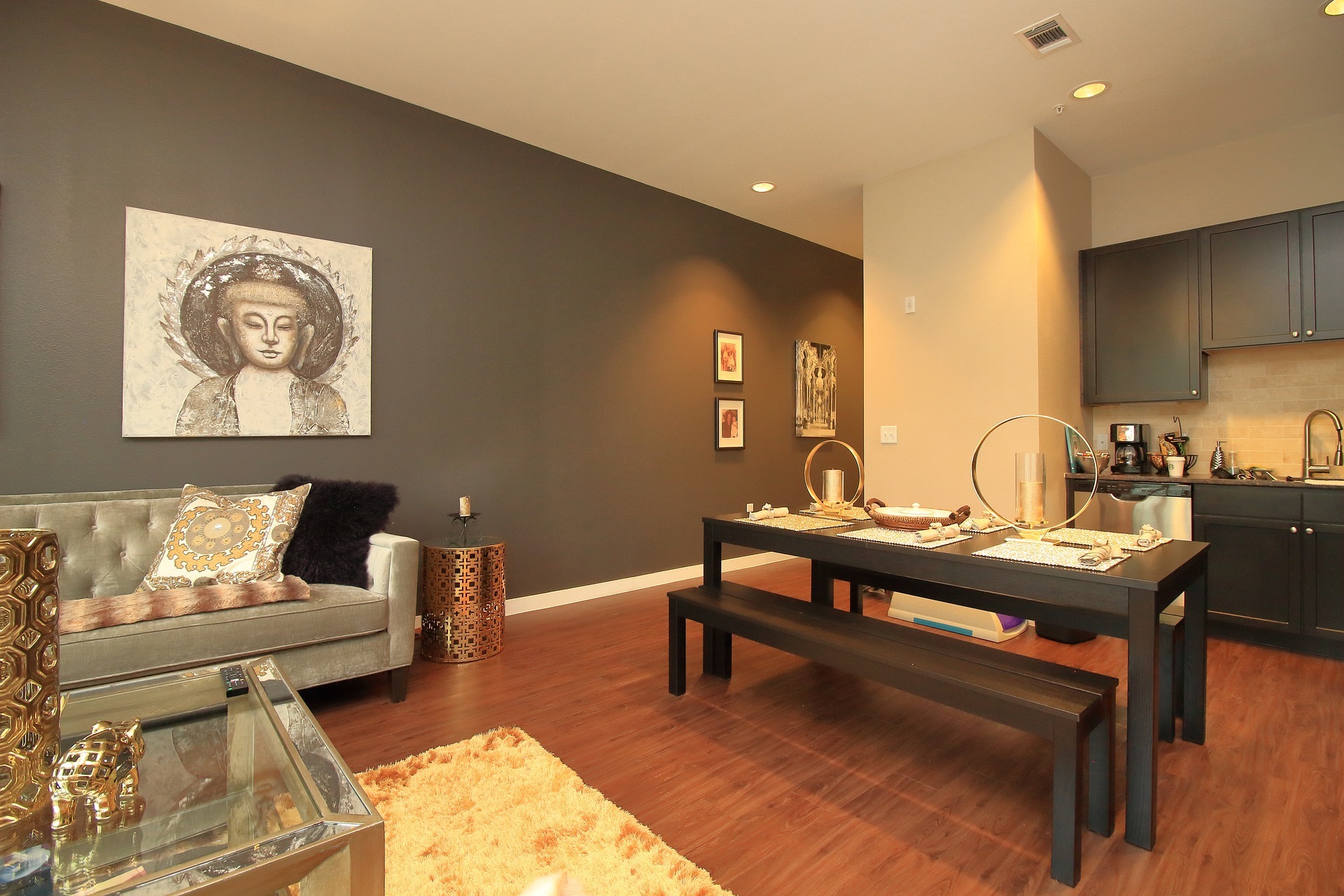 For more than 20 years, the benefits of staging a home have been well documented. Numerous studies show that staging helps sell a home faster and for a higher price. According to the National Association of REALTORS®, 88 percent of homebuyers start their search online, forming impressions within three seconds of viewing a listing. When a home is well staged, it photographs well and makes the kind of first impression that encourages buyers to take the next step.
Studies also indicate that buyers decide if they're interested within the first 30 seconds of entering a home. Not only does home staging help to remove potential red flags that can turn buyers off, it helps them begin to imagine living there. Homes that are professionally staged look more "move-in ready" and that makes them far more appealing to potential buyers.
According to the Village Voice, staged homes sell in one-third less time than non-staged homes. Staged homes can also command higher prices than non-staged homes. Data compiled by the U.S. Department of Housing and Urban Development indicate that staged homes sell for approximately 17 percent more than non-staged homes.
A measurable difference in time and money
In a study conducted by the Real Estate Staging Association in 2007, a group of vacant homes that had remained unsold for an average of 131 days were taken off the market, staged, and relisted. The newly staged properties sold, on average, in just 42 days, – which is approximately 68 percent less time on the market.
The study was repeated in 2011, in a more challenging market, and the numbers were even more dramatic. Vacant homes that were previously on the market for an average of 156 days as unstaged properties, when listed again as staged properties, sold after an average of 42 days—an average of 73 percent less time on the market.
Small investments, big potential returns
Staging is a powerful advantage when selling your home, but that's not the only reason to do it. Staging uncovers problems that need to be addressed, repairs that need to be made, and upgrades that should be undertaken. For a relatively small investment of time and money, you can reap big returns. Staged properties are more inviting, and that inspires the kind of peace-of-mind that gets buyers to sign on the dotted line. In the age of social media, a well-staged home is a home that stands out, gets shared, and sticks in people's minds.
What's more, the investment in staging can bring a higher price. According to the National Association of REALTORS, the average staging investment is between one percent and three percent of the home's asking price, and typically generates a return of eight to ten percent.
In short, less time on the market and higher selling prices make the small cost of staging your home a wise investment.
Interested in learning more? Contact your real estate agent for information about the value of staging and referrals for professional home stagers.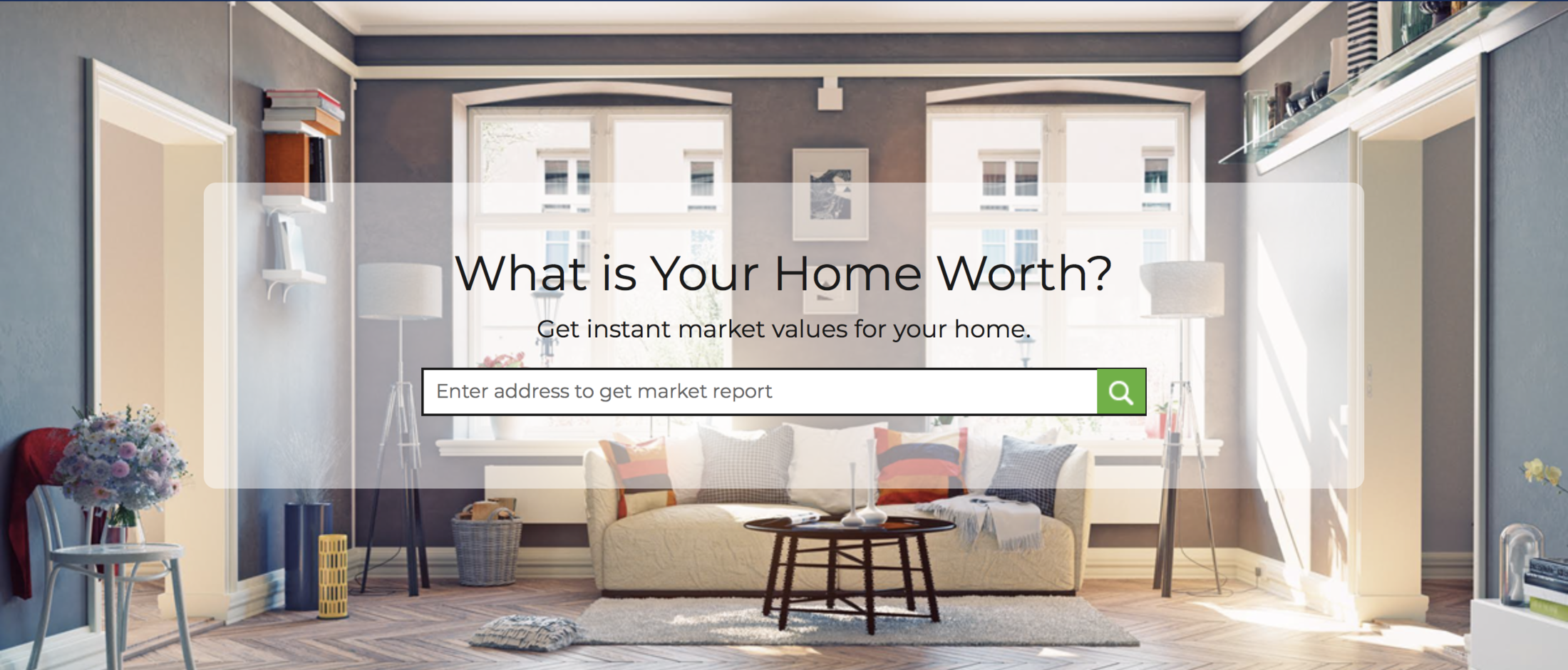 What's your home worth?
It seems like a simple question, but finding that answer is more complicated than it might seem. Sites like Zillow, Redfin, Eppraisal, and others have built-in home valuation tools that make it seem easy, but how accurate are they? And which one do you believe if you get three different answers? Online valuation tools have become a key part of the home buying and selling process, but they've been proven to be highly unreliable in certain instances. One thing that is for certain is that these valuation tools have reinforced that real estate agents are as vital to the process of pricing a home as they ever were – and maybe even more so now.
There are limitations to every online valuation tool. Most are readily acknowledged by their providers, such as Zillow's "Zestimate", which clearly states that it offers a median error rate of 4.5%, with varying accuracy across the country. That may not sound like a lot, but keep in mind that amounts to a difference of about $31,500 for a $700,000 home. For Redfin and Trulia, there are similar ranges in results. When you dig deeper into these valuation tools, it's no small wonder that there are discrepancies, as they rely on a range of different sources for information, some more reliable than others.
Redfin's tool pulls information directly from multiple listing services(MLSs) all over the country. Others negotiate limited data sharing deals with those same services, but also rely on public records, as well as homeowners' records. This can lead to gaps in coverage. These tools can serve as helpful pieces of the puzzle when buying or selling a home, but the acknowledged error rate is a reminder of the dangers of relying too heavily on them.
Home valuation tools can be a useful starting point in the real estate process, but nothing compares to the level of detail and knowledge a professional real estate agent offers when pricing a home. An algorithm can't possibly know about a home's unique characteristics or those of the surrounding neighborhood. They also can't answer your questions about what improvements you can make to get top dollar or how buyer behaviors are shaping the market. All of this – and more – can only be delivered by a trusted professional whose number one priority is getting you the best price in a time frame that meets your needs.
If you're curious what your home might be worth, Windermere offers a tool that provides a series of evaluations about your property and the surrounding market. And once you're ready, we're happy to connect you with a Windermere agent who can clarify this information and perform a Comparative Market Analysis to get an even more accurate estimate of what your home could sell for in today's market.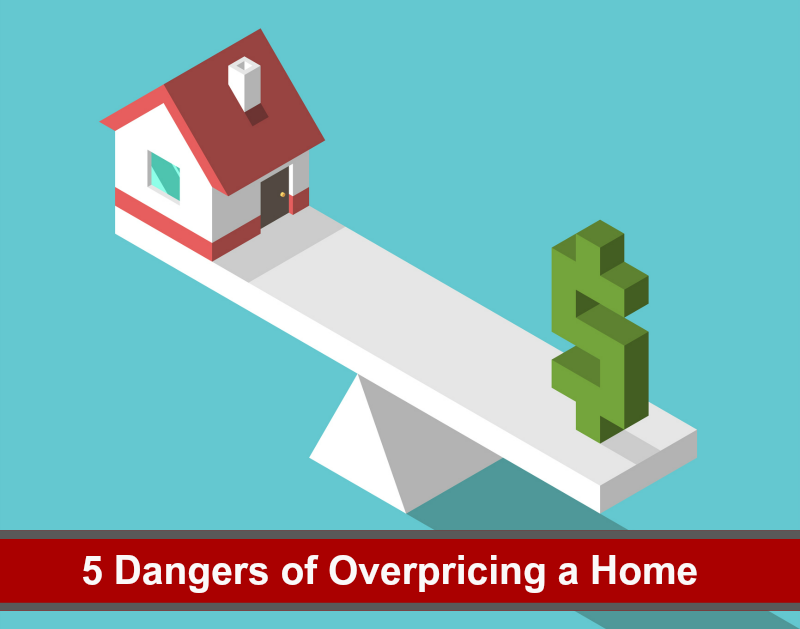 It is still a great time to be a seller, but in much of the Western U.S., the local real estate market has begun to soften. With significant increases in inventory, buyers now have more choices and less sense of urgency. If you are thinking about selling your home, pricing it correctly the first time is critical. Here's why:
If you overprice your home, it won't show up in some search results.

Buyers search for homes using the parameters they desire. Price range is one of the most critical. If you set an unrealistic price of $850,000 for your home, all the buyers searching for homes up to $825,000 will fail to see your property in their search results.

An overpriced home attracts the wrong buyer.

An overpriced home will not compare favorably with the realistically-valued homes in a buyer's price bracket. If your home is missing the amenities, square footage or other features of homes within the price range you've placed it in it won't sell.

Overpriced homes linger on the market and risk becoming "stale".

The interest in a home is always highest when the listing first hits the market. When an overpriced home goes unsold for a long period of time buyers often wonder what is wrong with the property. When a buyer moves on from a listing they rarely come back, even if you drop the price.

You run the risk of getting less for your home than if you priced it correctly the first time.

A Zillow study showed that homes that linger on the market tend to sell for significantly less than their listing price. When a home sits on the market for an extended period of time, buyers feel they have lots of room to negotiate.

The longer your home remains on the market, the more expenses you incur.

Every month your home goes unsold you put out money for mortgage payments, utilities and other home expenses that you will never recover.
Setting a realistic price for your home from the start is critical. If you're thinking of selling, our highly trained experts at Windermere Real Estate can provide you with a comprehensive pricing analysis based on current market conditions.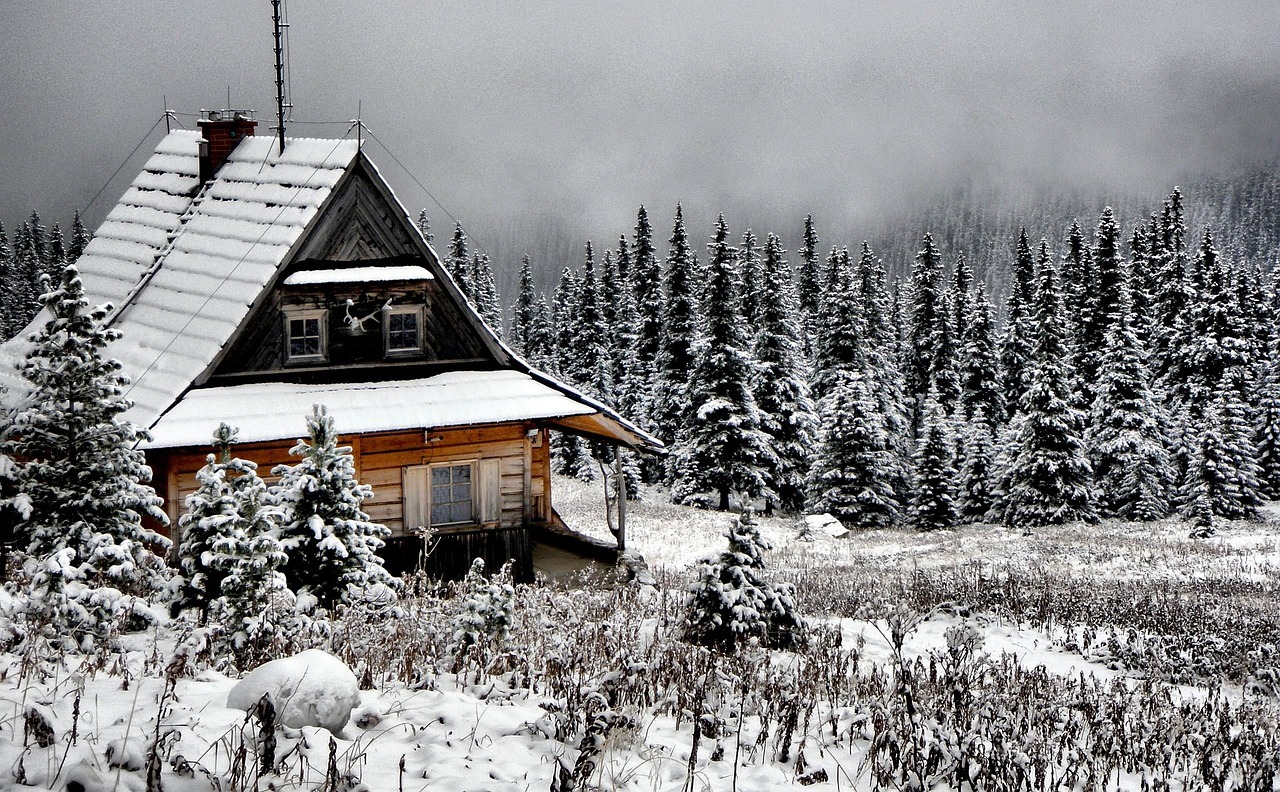 None of us want to admit it, but Winter is Coming. The new season of Game of Thrones might not be until 2019, but your home will need preparation before then. As the days shorten, you can mitigate many mid-winter headaches with some preemptive prep. Proper weatherizing can help protect your investment from preventable damage, save money on energy costs, and, most importantly, keep your home safe and warm for you and your loved ones throughout the winter season. Here is a useful checklist to manage your weatherization project. Setting aside some time on a couple Sundays should be more than enough to knock this out:
Getting started: Check your toolbox to make sure you have all the materials you need for home maintenance in one place. This NY Times article provides a good list of the tools you'll really need to maintain your home. After your toolbox is put together, you can confidently begin the maintenance on your home.
Insulation: Insulating a home can reduce your energy bill by up to 50%. For the best results, your home should be properly insulated from the ceilings to the basement. By starting in your attic and progressively adding insulation to other areas of your home over time, you will avoid spending a large sum of money up-front.
Cracks & Leaks: Do a run-through of your entire house for cracks and leaks, from your roof to your baseboards. Winter weather is unpredictable. Whether your area gets rain, wind or snow, cracks in your house can lead to cold drafts or leaks that cause water damage. Depending on your house type, most cracks can be easily filled with supplies from your local hardware store in a do-it-yourself fashion. Use caulk to seal any cracks in the permanent building materials.
Windows & Doors: Another common place for heat leakage is in your windows and exterior doorways. Make sure seals are tight and no leaks exist. If you have storm windows, make sure you put them on before the cold season begins. Don't underestimate the difference some weatherstrips and a door sweep can provide in preventing drafts and keeping the heat in.
Rain Gutters: Clean your rain gutters of any debris. In colder climates, buildup will cause gutters to freeze with ice, crack and then leak. Once you have removed the residue from the drains, test them by running hose water to make sure cracks and leaks have not already formed. Even in warmer locales, the buildup can put undue stress on your roof and home.
Pipes: Pipes are a number one risk in winter climates. A burst pipe can become a winter disaster in a matter of seconds. Remember to turn off your exterior water source and take in your hose. Internally, wrapping your pipes is a recommended precaution to take.
Heating System: What's one thing gas fireplaces, wood burning stoves, and central air heating systems all have in common? They all need to be cleaned and maintained. Annual checks of are vital in avoiding dangers such as house fires. If you use an old-fashioned wood stove, make sure there are no leaks and that all soot build up or nests are removed. If a furnace is what you have, remember to change the filters as recommended or clean out your reusable filters.
Fireplace & Wood burning stoves: Make sure to have chimneys and air vents cleaned early in the season if you are planning on warming your home with a wood-burning source. When your fireplace is not in use make sure to close the damper, some resources estimate an open damper can increase energy consumption by as much as 30%.
Outside: As we mentioned before, make sure you bring your patio furniture inside (or cover) for the winter- but don't forget other, smaller items such as your tools, including a hose and small planting pot. Clear out any piles around the side of your house, checking for cracks as you go so to avoid providing shelter for unwelcome guests over the cold season. If your property has large trees check for loose branches and call someone to trim back any items that may fall in your yard, on your roof or even damage a window.
Emergency Kit: Lastly, make sure your emergency kit is up-to-date with provisions, batteries, fresh water, food for animals, entertainment for kids, etc- especially if you live in an area prone to power outages.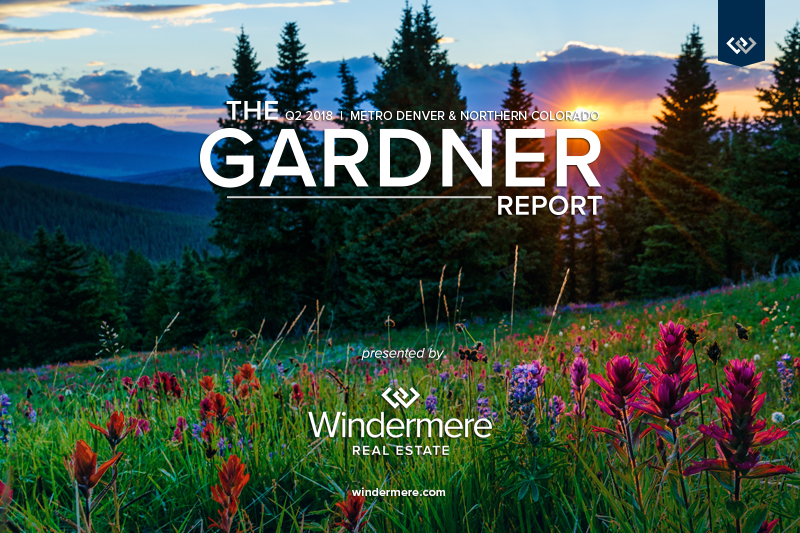 The following analysis of the Metro Denver & Northern Colorado real estate market (which now includes Clear Creek, Gilpin, and Park Counties) is provided by Windermere Real Estate Chief Economist Matthew Gardner. We hope that this information may assist you with making better-informed real estate decisions. For further information about the housing market in your area, please don't hesitate to contact your Windermere agent.
ECONOMIC OVERVIEW
Colorado continues to see very strong job growth, adding 72,800 non-agricultural jobs over the past 12 months—an impressive increase of 2.7%. Through the first five months of 2018, the state added an average of 7,300 new jobs per month. I expect this growth to continue through the remainder of the year, resulting in about 80,000 new jobs in 2018.
In May, the state unemployment rate was 2.8%. This is slightly above the 2.6% we saw a year ago but still represents a remarkably low level. Unemployment remains either stable or is dropping in all the markets contained in this report, with the lowest reported rates in Fort Collins and Boulder, where just 2.2% of the labor force was actively looking for work. The highest unemployment rate was in Grand Junction, which came in at 3.1%.
HOME SALES ACTIVITY
In the second quarter of 2018, 17,769 homes sold—a drop of 2.4% compared to the second quarter of 2017.
Sales rose in 5 of the 11 counties contained in this report, with Gilpin County sales rising by an impressive 10.7% compared to second quarter of last year. There were also noticeable increases in Clear Creek and Weld Counties. Sales fell the most in Park County but, as this is a relatively small area, I see no great cause for concern at this time.
Slowing sales activity is to be expected given the low levels of available homes for sale in many of the counties contained in this report. That said, we did see some significant increases in listing activity in Denver and Larimer Counties. This should translate into increasing sales through the summer months.
The takeaway here is that sales growth is being hobbled by a general lack of homes for sale, and due to a drop in housing demand.
HOME PRICES
With strong economic growth and a persistent lack of inventory, prices continue to trend higher. The average home price in the region rose
9.8% year-over-year to $479,943.
The smallest price gains in the region were in Park County, though the increase there was still a respectable 7%.
Appreciation was strongest in Clear Creek and Gilpin Counties, where prices rose by 28.9% and 26%, respectively. All other counties in this report saw gains above the long-term average.
Although there was some growth in listings, the ongoing imbalance between supply and demand persists, driving home prices higher.
DAYS ON MARKET
The average number of days it took to sell a home remained at the same level as a year ago.
The length of time it took to sell a home dropped in most markets contained in this report. Gilpin County saw a very significant jump in days on market, but this can be attributed to the fact that it is a very small area which makes it prone to severe swings.
In the second quarter of 2018, it took an average of 24 days to sell a home. Of note is Adams County, where it took an average of only 10 days to sell a home.
Housing demand remains very strong and all the markets in this report continue to be in dire need of additional inventory to satisfy demand.
CONCLUSIONS
This speedometer reflects the state of the region's real estate market using housing inventory, price gains, home sales, interest rates, and larger economic factors.
For the second quarter of 2018, I have moved the needle very slightly towards buyers as a few counties actually saw inventories rise. However, while I expect to see listings increase in the coming months, for now, the housing market continues to heavily favor sellers.
Matthew Gardner is the Chief Economist for Windermere Real Estate, specializing in residential market analysis, commercial/industrial market analysis, financial analysis, and land use and regional economics. He is the former Principal of Gardner Economics, and has more than 30 years of professional experience both in the U.S. and U.K.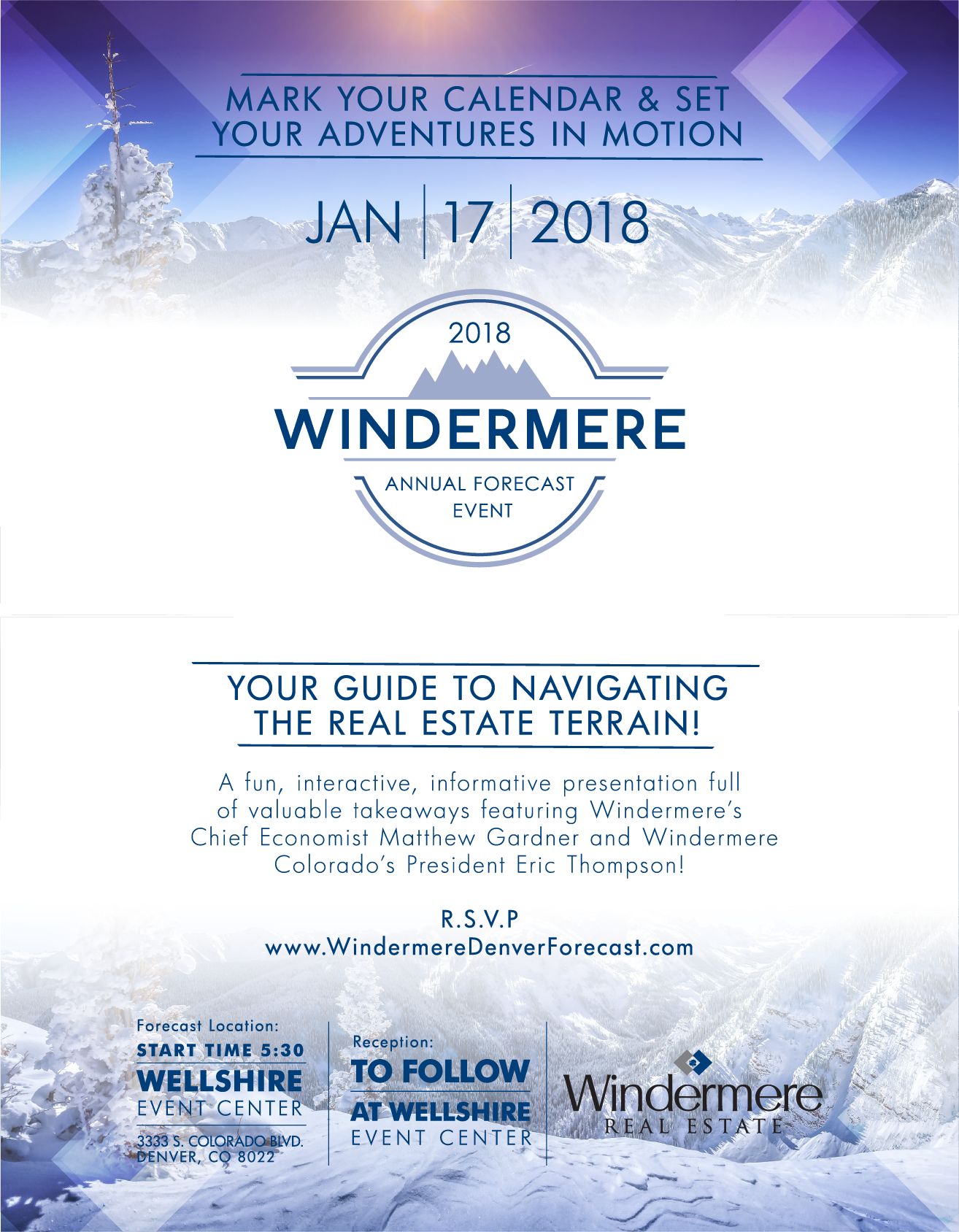 Are we in a housing bubble? Is there a recession coming?
Learn the answers to those questions plus more at this fun, interactive, informative presentation full of valuable takeaways featuring Windermere Real Estate's Chief Economist Matthew Gardner. Hear hyper-local stats and facts as well as national information about the real estate, employment and financial markets.
Reception to follow! Please stay after the presentation and join us for complimentary hors d'oeuvres and drinks.
We hope to see you there!  Please click the image below to register.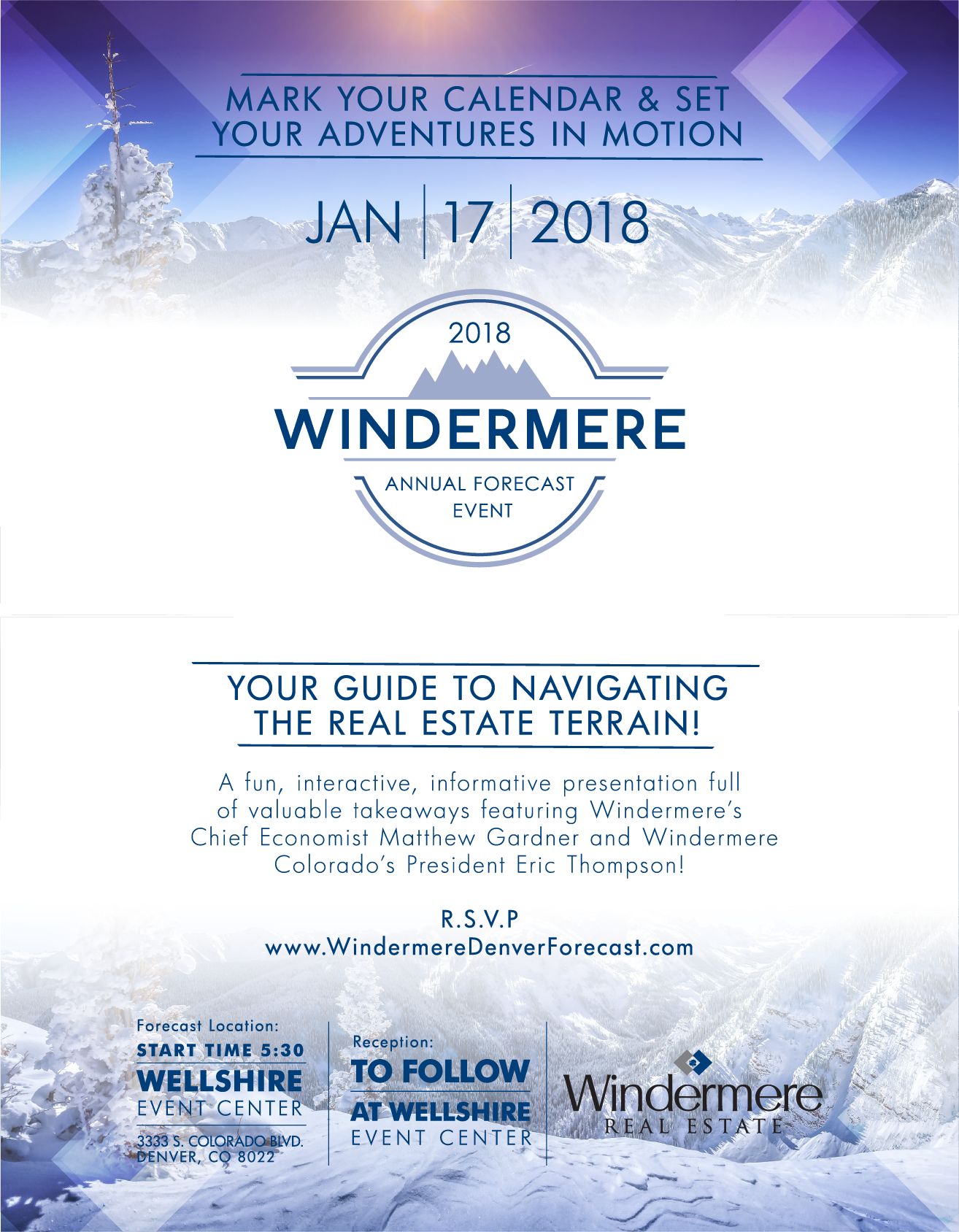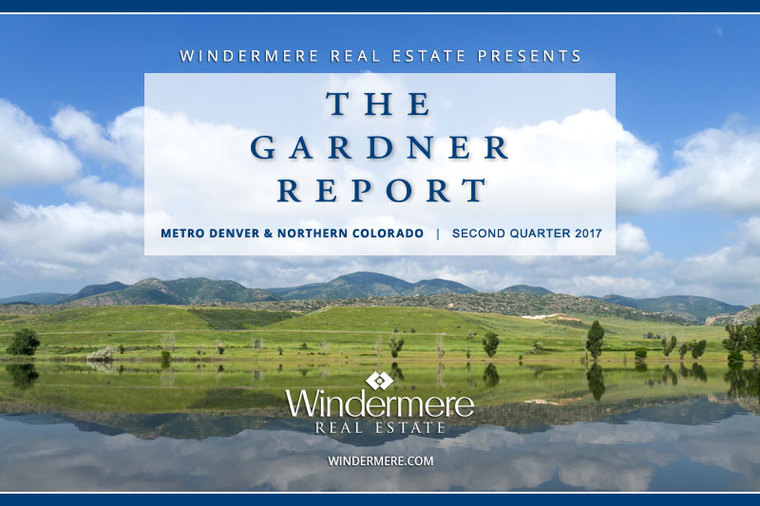 ECONOMIC OVERVIEW
Colorado added 62,000 new jobs over the past 12 months, an increase of 2.4% over this time last year. All of the metropolitan markets included in this report saw annual employment growth, with substantial growth in Boulder (4.7%) and Fort Collins (+4.1%), and more modest growth in Grand Junction (0.3%). In May, the unemployment rate in the state was 2.3%, matching the prior month and down 3.4% from a year ago. The lowest unemployment rate was in Fort Collins at just 2.0%. The highest rate was in Grand Junction, though it was still a relatively low 3.3%. It is reasonable to expect these markets will see above-average wage growth given the tight labor market.
HOME SALES ACTIVITY
There were 17,581 home sales during the first quarter of 2017, a solid annual increase of 3.9% over the first quarter of 2016.
Jefferson County saw sales grow at the fastest rate over the past 12 months, with a 9.4% increase. There was also an impressive increase in Douglas County (+6.3%). More modest sales growth was seen in Denver and Weld Counties.
Even with the rise in sales, listing activity is still running at well below historic averages, with the total number of homes for sale in the second quarter 7.6% below a year ago.
Sales growth continues to trend higher, but inventory levels remain well below where they need to be to satisfy demand.
HOME PRICE
Due to solid demand, home prices continue to rise with average prices up by 8.5% year-over-year to an average across the region of $438,980.
Boulder County saw slower appreciation in home values, but the trend is still positive.
Appreciation was strongest in Denver and Weld Counties, where prices rose by 12.4% and 10.6% respectively.
Economic growth is driving job growth, which is driving housing demand. Given the relative shortage of homes for sale, expect to see home prices continue to appreciate at above-average rates at least through the rest of the year.
DAYS ON MARKET
The average number of days it took to sell a home dropped by three days when compared to the second quarter of 2016.
Homes in all counties contained in this report took less than a month to sell. Adams County stood out as it took an average of only 11 days to sell a home.
During the second quarter, it took an average of just 17 days to sell a home. This is down by a substantial 13 days compared to the first quarter of this year.
The takeaway here is that demand remains robust as evidenced by the remarkably short amount of time that it is taking to sell a home.
CONCLUSIONS
This speedometer reflects the state of the region's housing market using housing inventory, price gains, home sales, interest rates, and larger economic factors.
After the second quarter of 2017, I have moved the needle even farther in favor of sellers. Mortgage rates remain very competitive and, with the specter of lending standards easing a little, demand will remain robust, which will be reflected in rising home values.
Matthew Gardner is the Chief Economist for Windermere Real Estate, specializing in residential market analysis, commercial/industrial market analysis, financial analysis, and land use and regional economics. He is the former Principal of Gardner Economics, and has over 25 years of professional experience both in the U.S. and U.K.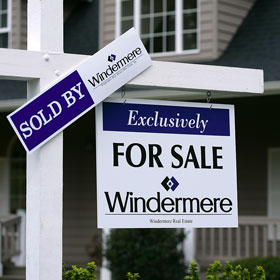 Windermere Real Estate, the largest regional brokerage in the Western U.S. is celebrating its second year in the Denver market this month.  After just two years, the Seattle-based company now ranks in the top 3% of all real estate brokerage companies in the metropolitan area.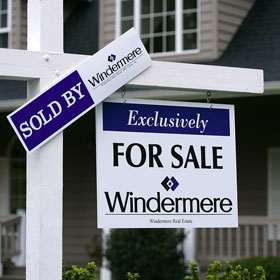 While Windermere has been growing over the last two years, metro Denver homeowners have been benefitting from the robust growth in real estate prices.  According to the latest report from the Federal Housing Finance Authority, Denver ranks 14th out of 258 metropolitan areas for home price appreciation with 10.14% growth over the last 12 months.
This appreciation rate is nearly double the long-term average of 5.8%.  Prices in metro Denver have been appreciating at double-digit rates for the last four years in a row.  The average price of a single-family home now stands at $448,000.  Just two years ago, when Windermere started in Metro Denver, the average price was $371,000.
"For four years now we have had the perfect storm to cause prices to increase at a rate that is nearly double the long-term average.  Metro Denver is one of the fastest growing populations in the country, we have an incredibly healthy economy with high employment, interest rates that are roughly half of the long-term average, and the inventory of homes is at all-time lows," said Eric Thompson president of Windermere Real Estate in Colorado.
There are only 2,918 single family homes currently for sale in Metro Denver, 7.8% lower than a year ago.  "With tight supply and strong demand, we see expect very strong price appreciation for the foreseeable future," said Thompson.
About Windermere Colorado:
Since its inception in 1972, Windermere Real Estate has grown to be a network of 300 offices with more than 6,000 agents by focusing on three basic principles: hire the best people, give them the best tools and create thriving communities. Windermere's growth has allowed them to expand into the Colorado market led by Eric Thompson, President of Windermere Colorado.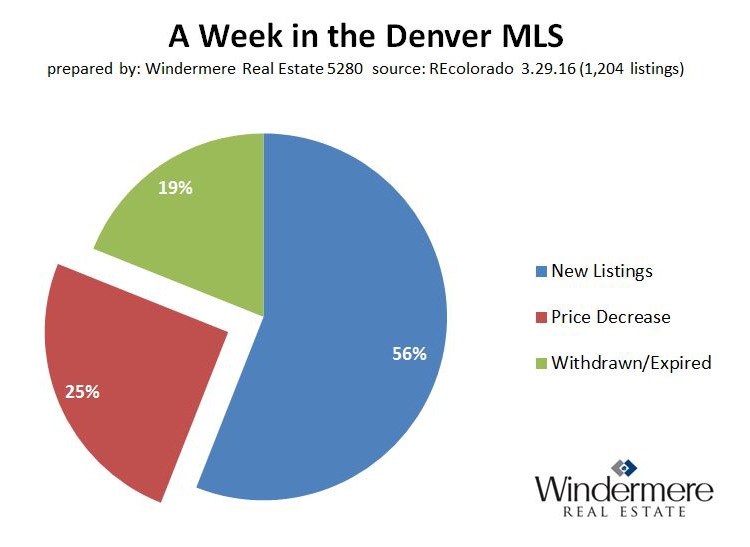 With the home inventory at all time lows our team is constantly monitoring the listing activity in the local MLS – REcolorado, and some interesting observations can be made on reviewing the data over this past week.
This first graph takes a look at how new listing numbers (homes just placed on the market for the first time) compare with price reductions and failed sale attempts (withdrawn & expired listings) over the last 7 days.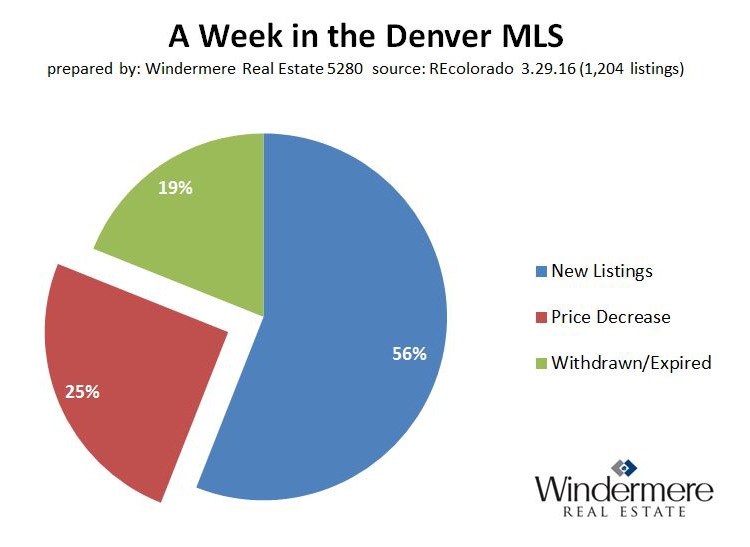 The standouts from this chart —
Only 674 new listings came on the market.
Relative to the number of new listings, nearly half of that number reduced their price.
229 listings were takes off the market because they failed to sell (roughly 1/3 the number of new listings)!
The listings that are priced well are moving very quickly and often choosing between multiple offers, but the impact of this lessens as price increases.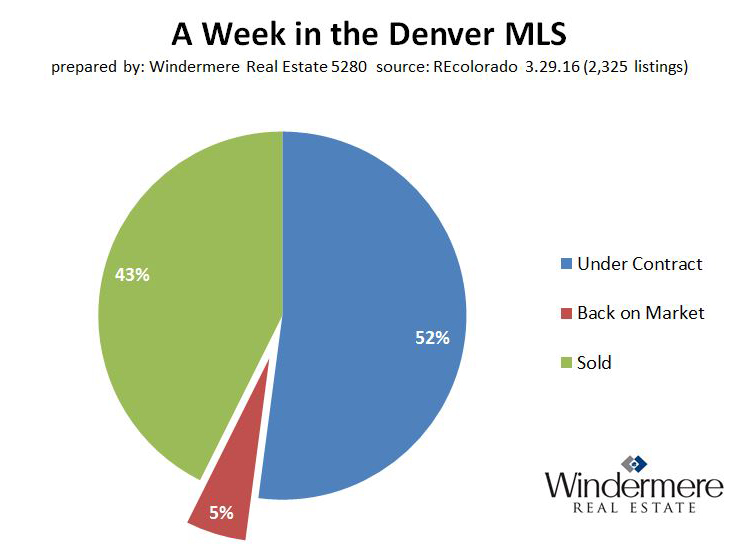 Once a listing goes under contract as it will either successfully close or go back on the market for some reason.
The data here shows that relative to the Sold listing numbers roughly 9 out of 10 are successfully closing which leaves 1 out of 10 coming back on the market.
We've seen this number fluctuate over the last 6 months, with the current numbers actually on the lower end.  This could be due to the fact that we are near month end, but some would still find it surprising given the low inventory market we find ourselves in.
Properly positioning a property within the market not only with the right price, but also an effective marketing plan and the benefits of the Windermere Certified Listing program have lowered our price reductions and expiration rate to nearly zero, while still maximizing the bottom-line return for our sellers.  To learn more, connect with one of the amazing Brokers on our team!
Getting your home ready to sell may seem like a challenge, but you know that the more appealing the house is, the more likely it is to sell quickly. Windermere Real Estate 5280 serves Denver and the south metro suburbs down to Castle Rock. We can help you with pricing, showings, and connecting with potential buyers, but what about the steps leading up to that first showing or open house? Many things, like cleaning the house and maintaining the lawn may seem obvious, but there are some more in-depth measures that you can take
Make Sure the Light is Right

Go through your home and make sure there are no missing or burned out light bulbs. You may even want to swap out bright bulbs for softer, warmer light, so that the home feels more inviting. For natural light, make sure your windows, blinds, and shades are clean so the light isn't diffused too much or reveal layers of dust.
Clean Out Your Closets

It's a fairly well-known fact that potential buyers will look in closets and cabinets to gain a better idea of how much storage space the house has. If your closets are overflowing or unorganized, the space can seem cramped, and buyers may think that you haven't taken the time to get the house ready. By removing a portion of the clothes in a closet or dishes in a cupboard (and cleaning and dusting them thoroughly) the buyer can truly see the entire storage space.
Remove Those Pet Items

It's possible that the buyers will be pet-lovers themselves, but leaving dog food sitting out or the kitty litter tray in plain view can quickly change a buyer's mind. Take the time to clean the house thoroughly and remove any traces of your pets, and arrange care for them during the showing.
A majority of potential buyers will make up their mind about your house from the moment they set foot inside, and you only have once chance to make a good first impression. By following these steps and a few others, you can get your home ready to sell, and we can make sure that it sells quickly. Contact us today!