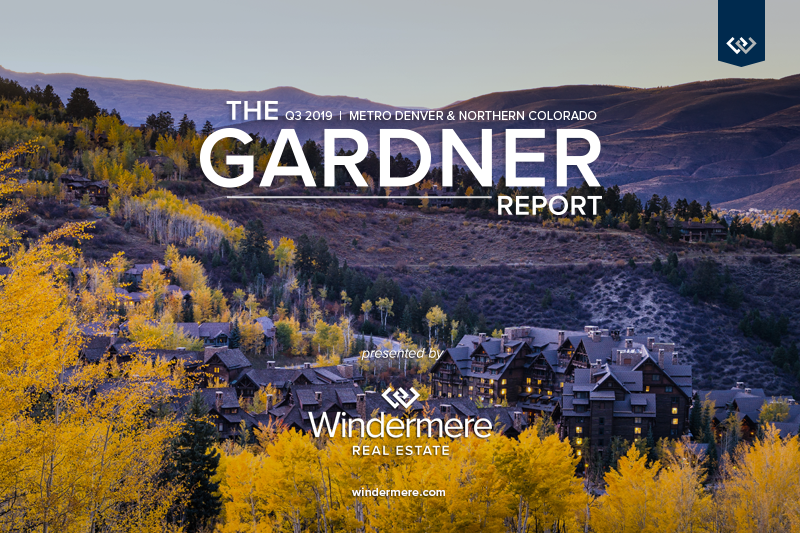 The following analysis of the Metro Denver & Northern Colorado real estate market is provided by Windermere Real Estate Chief Economist Matthew Gardner. We hope that this information may assist you with making better-informed real estate decisions. For further information about the housing market in your area, please don't hesitate to contact your Windermere real estate agent. 
ECONOMIC OVERVIEW
Colorado's economy picked up, adding 64,900 new non-agricultural jobs over the past 12 months — a growth rate of 2.4%. Over the past three months, the state added an impressive 28,300 new jobs.
In August, the state unemployment rate was 2.8%, down from 3.4% a year ago. Unemployment rates in all the counties contained in this report were lower than a year ago. It is fair to say that all markets are now at full employment.
HOME SALES
In the third quarter of 2019, 17,562 homes sold. This is an increase of 5.1% compared to the third quarter of 2018 but 1.6% lower than the second quarter (which can be attributed to seasonality). Pending sales — a sign of future closings —rose 9.7%, suggesting that closings in the final quarter of 2019 are likely to show further improvement.
Seven counties contained in this report saw sales growth, while four saw sales activity drop. I am not concerned about this because all the markets that experienced slowing are relatively small and, therefore, subject to significant swings.
I was pleased to see an ongoing increase in the number of homes for sale (+16.9%), which means home buyers have more choice and feel less urgency.
Inventory levels are moving higher, and demand for housing appears to be quite strong. As I predicted last quarter, home sales rose in the third quarter compared to a year ago.
HOME PRICES
Home prices continue to trend higher, with the average home price in the region rising 3.8% year-over-year to $477,776.
Interest rates are at very competitive levels and are likely to remain below 4% for the balance of the year. As a result, prices will continue to rise but at a more modest pace.
Appreciation was again strongest in Park County, where prices rose 7.8%. We also saw strong growth in Weld County, which rose 7.4%. Home prices dropped in Clear Creek County, but, as mentioned earlier, this is a small market so I don't believe this is indicative of an ongoing trend.
Affordability remains an issue in many Colorado markets and this will act as a modest headwind to ongoing price growth.
DAYS ON MARKET
The average number of days it took to sell a home in the markets contained in this report rose seven days compared to the third quarter of 2018.
The amount of time it took to sell a home rose in all counties compared to the third quarter of 2018.
It took an average of 30 days to sell a home in the region — an increase of 1 day compared to the second quarter of this year.
The Colorado housing market is still performing well, and the modest increase in the length of time it took to sell a home is a function of greater choice in homes for sale and buyers taking a little longer to choose a home.
CONCLUSIONS
This speedometer reflects the state of the region's real estate market using housing inventory, price gains, home sales, interest rates, and larger economic factors.
For the third quarter of 2019, I continue the trend I started last summer and have moved the needle a little more in favor of buyers. I continue to closely monitor listing activity to see if we get any major bumps above the traditional increase because that may further slow home price growth. However, the trend for 2019 will continue to be a move toward a more balanced market.
ABOUT MATTHEW GARDNER
As Chief Economist for Windermere Real Estate, Matthew Gardner is responsible for analyzing and interpreting economic data and its impact on the real estate market on both a local and national level. Matthew has over 30 years of professional experience both in the U.S. and U.K.
In addition to his day-to-day responsibilities, Matthew sits on the Washington State Governors Council of Economic Advisors; chairs the Board of Trustees at the Washington Center for Real Estate Research at the University of Washington; and is an Advisory Board Member at the Runstad Center for Real Estate Studies at the University of Washington where he also lectures in real estate economics.

Whether you're a first-time homebuyer or a current owner looking for a bigger home, the ideas below will help you better navigate that all-important first step: Finding a property that you like (and can afford).
The search for a new home always starts out with a lot of excitement. But if you haven't prepared, frustration can soon set in, especially in a competitive real estate market. The biggest mistake is jumping into a search unfocused, just hoping to "see what's available." Instead, we recommend you first take some time to work through the four steps below.
Step 1: Talk to your agent
Even if you're just thinking about buying or selling a house, start by consulting your real estate agent. An agent can give you an up-to-the-minute summary of the current real estate market, as well as mortgage industry trends. They can also put you in touch with all the best resources and educate you about next steps, plus much more. If you are interested in finding an experienced agent in your in your area, we can connect you
here.
Step 2: Decide how much home you can afford
It may sound like a drag to start your home search with a boring financial review, but when all is said and done, you'll be glad you did. With so few homes on the market now in many areas, and so many people competing to buy what is available, it's far more efficient to focus your search on only the properties you can afford. A meeting or two with a reputable mortgage agent should tell you everything you need to know.
Step 3: Envision your future
Typically, it takes at least five years for a home purchase to start paying off financially, which means, the better your new home suits you, the longer you'll most likely remain living there.
Will you be having children in the next five or six years? Where do you see your career heading? Are you interested in working from home, or making extra money by renting a portion of your home to others? Do you anticipate a relative coming to live with you? Share this information with your real estate agent, who can then help you evaluate school districts, work commutes, rental opportunities, and more as you search for homes together.
Step 4: Document your ideal home
When it comes to this step, be realistic. It's easy to get carried away dreaming about all the home features you want. Try listing everything on a piece of paper, then choose the five "must-haves," and the five "really-wants."
For more tips, as well as advice geared specifically to your situation, connect with an experienced Windermere Real Estate agent by clicking here.

Short sales are complicated. With all the variables that need to be juggled, it's easy to make mistakes that end up derailing a transaction. Here are the most common reasons that short sales fail.
1) Failure to understand and justify market value.
Setting a price for a short sale is the delicate art of balancing what a buyer will pay and what the lender will approve. It's important to understand how the lender values a property. The bank will commonly hire an appraiser or BPO broker to set a value after you submit an offer. If you have set the price too low, the lender will not approve the offer. Everyone loses. The buyer has been given an unrealistic expectation of what they should pay, so usually is not willing or able to offer much more. More importantly, your client's clock is ticking. They have a certain deadline to do a short sale and avoid foreclosure, and you have squandered valuable time on a deal that was never going to go through. (If you think the value the bank set is unreasonable, this Ask the Expert article explains how to dispute lender valuations.)
2) Not knowing the specific lender's short sale process.
On average, the bank's short sale negotiator has over 1,000 short sale transactions that they are processing at any given time. And each lender's process is different. If you don't follow the lender's specific process or there is an error in the paperwork or you're missing a form, it all comes to a halt. Your file gets set aside until the issues can be resolved. And unless you call, it can be weeks before you are even aware that there is a problem. (We have a dedicated staff that follows up with lenders daily to make sure the process is moving forward.)The short sale transaction that closes, and closes quickly, is the one where everything is done right the first time.
3) No system to monitor the short sale process.
Because a short sale has so many more variables than a traditional real estate transaction, one of the most important jobs the listing broker has is making sure everyone involved has all the information they need to make their part of the deal happen. We have a private password-protected online system that lets all parties see what's happening with a transaction at any time – 24 hours a day, 7 days a week. This helps everyone involved track deadlines and ensure that no details fall through the cracks. It's also important for you to build a team of professionals who are highly experienced in short sales. For example, we work with title and escrow agents who understand the additional documentation and complex issues that are specifically related to short sales.
Richard is a Windermere broker in Bellevue, WA and co-founder of Washington Property Solutions, a short sales negotiating company. Since 2003 he has helped more than 700 homeowners sell their homes. A Bellevue native and a University of Washington grad, Richard is an avid sports fan and a devoted Little League and basketball coach. You can learn more about Richard here or at www.washortsales.com.
Posted in Selling by Richard Eastern