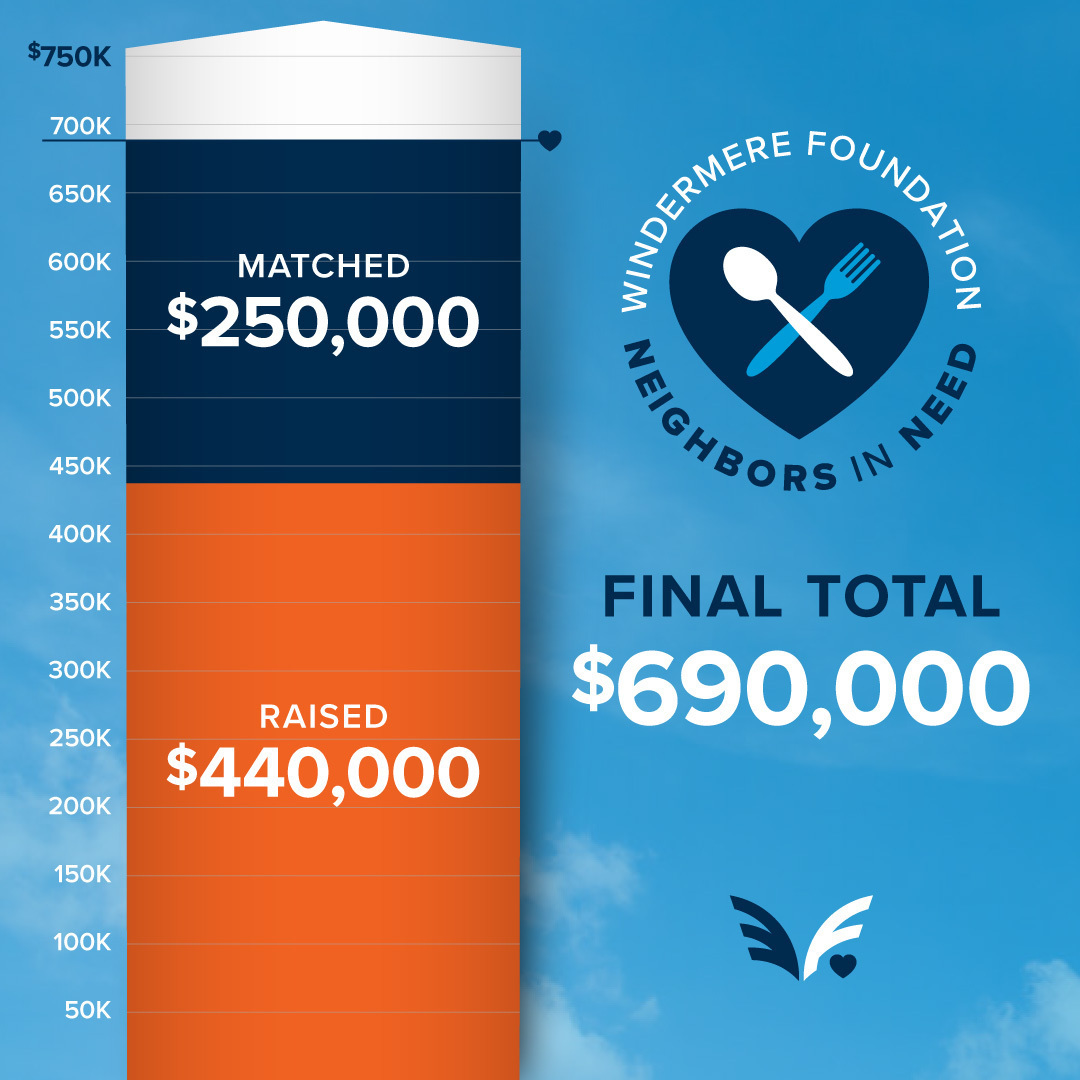 The COVID-19 pandemic has affected populations across the globe, but those who struggle with poverty and count on food programs to meet their basic day-to-day needs are in an especially uncertain place. While coping with increased demand and a bottlenecked pipeline of food supply, food banks are desperate for funds to continue to serve their communities. Because of this, Windermere decided to challenge its offices to raise $250,000, every dollar of which would be matched by the Windermere Foundation and donated to food banks in the areas where Windermere operates. We titled it the "Neighbors in Need" fundraising campaign.
Neighbors in Need kicked off on April 21, with the goal of raising $250,000 by May 5. As word continued to spread, online donations and contributions from both our agents and the public began to increase. Neighbors in Need was given a boost by Seattle Seahawks starting safety Quandre Diggs in a heartfelt message encouraging support. Over the final 24 hours, leading up to the May 5 deadline, support poured in from across the Windermere family as the final figure exceeded the initial goal of $500,000, landing at a total of $690,000.
Neighbors in Need exemplifies Windermere's deep commitment to supporting our local communities, which traces back to 1989 when the Windermere Foundation first started. Since then, we've proudly raised more than $41 million for low-income and homeless families throughout the Western U.S.
On behalf of the Windermere Foundation to all those who joined the effort: Thank you. We could not have made this large of an impact without your help. We are humbled to be able to do our part to help those who need it most during these uncertain times.
Posted on May 18, 2020 at 5:41 pm
Windermere Colorado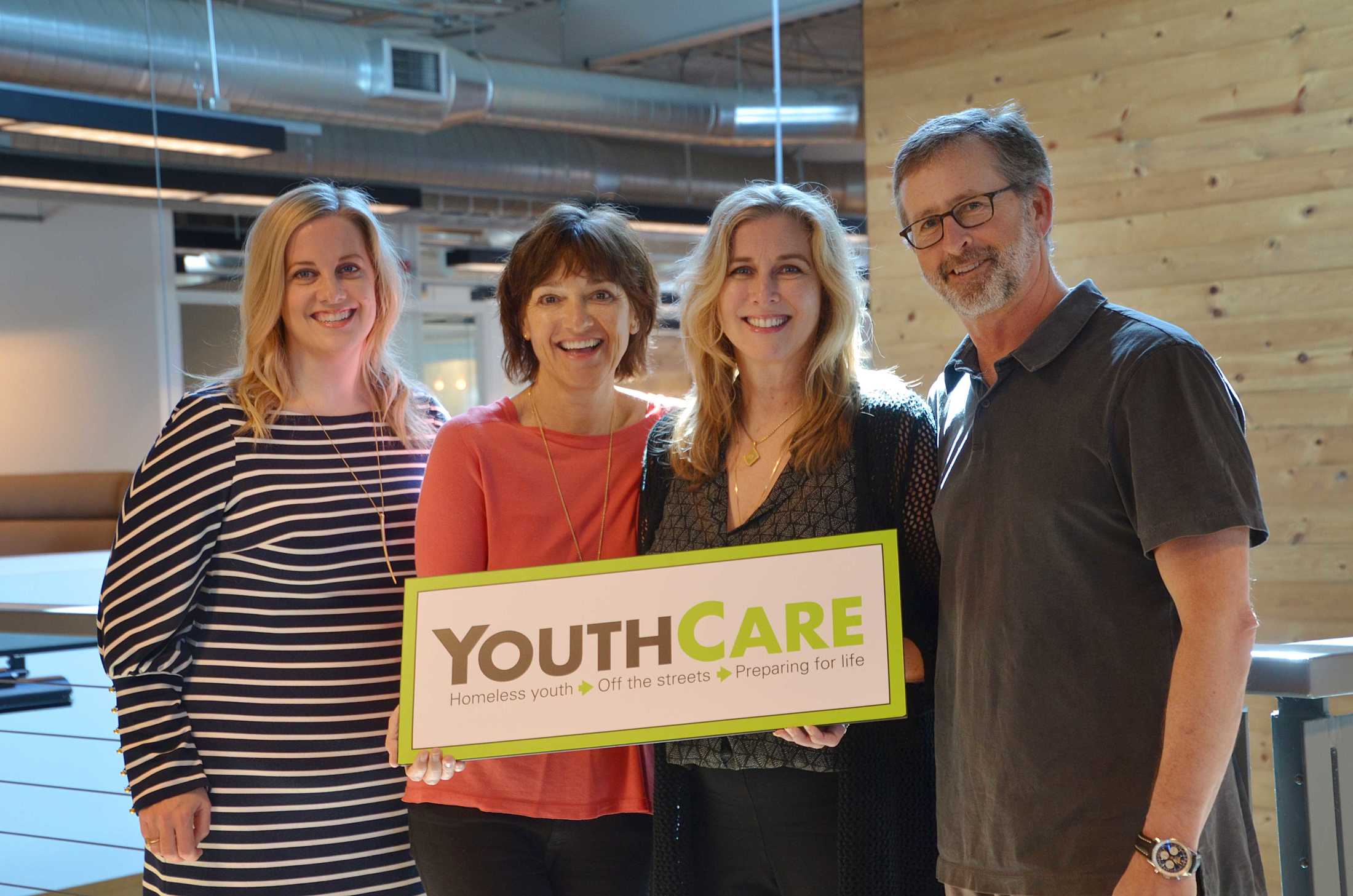 Pictured from left to right:  Cassie Walker Johnson, YouthCare Board Member & Windermere Broker; Jill Jacobi Wood, Co-President, Windermere Real Estate; Christine Wood, Executive Director, Windermere Foundation; Geoff Wood, CEO & Co-President, Windermere Real Estate.
For the past 30 years, Windermere Real Estate has supported more than 500 non-profit agencies dedicated to helping low-income and homeless families through donations from the Windermere Foundation. We have worked with many worthy organizations that provide shelter, food, youth/children's programs, emergency assistance, education/counseling, school assistance, scholarships, and other services to those in need in our communities. One organization that we have been honored to partner with these past three years is YouthCare, a non-profit in Seattle, Washington that provides critical services to homeless youth. YouthCare works to end youth homelessness and to ensure that young people are valued for who they are and empowered to achieve their potential.
Three years ago, we embarked on a campaign to #tacklehomelessness with the Seattle Seahawks and YouthCare. Together, our goal was to bring resources to help homeless youth move forward, and to inspire our neighbors and friends to take action. Windermere committed to donating $100 for every Seahawks home game defensive tackle to YouthCare. During the three seasons of the campaign, a total of $98,700 was raised to help fund housing and residential care for homeless youth.
In addition to the #tacklehomelessness campaign, Windermere offices throughout the greater Seattle area came together each fall to hold a "We've Got You Covered" winter drive for YouthCare. Over three years, a combined total of over 14,600 hats, gloves, scarves, socks, and an assortment of other accessories and cash donations were collected through the drives.
"We fielded a mountain (literally!) of donated items from the Windermere Community," said Jody Waits, Development & Communications Officer for YouthCare. "Windermere understands the power of home, and that a safe and welcoming place to call your own causes joy. We are so honored to have cheered for the Hawks and had this incredible partnership to tackle homelessness, together! While our friendship is evolving, we know that, united, we'll always be working to help homeless youth be safe today and build a thriving future for tomorrow. Thank you!"
Although our campaign with YouthCare has come to an end, Windermere is still actively involved with the non-profit. Cassie Walker Johnson, managing broker at the Windermere Wedgwood office, is a member of YouthCare's Board of Directors.
Windermere is proud to partner with non-profits like YouthCare, and we are thankful for all the generous donations made to the Windermere Foundation, which enable us to continue to support them.
If you would like to learn more about the Windermere Foundation, please visit windermerefoundation.com.