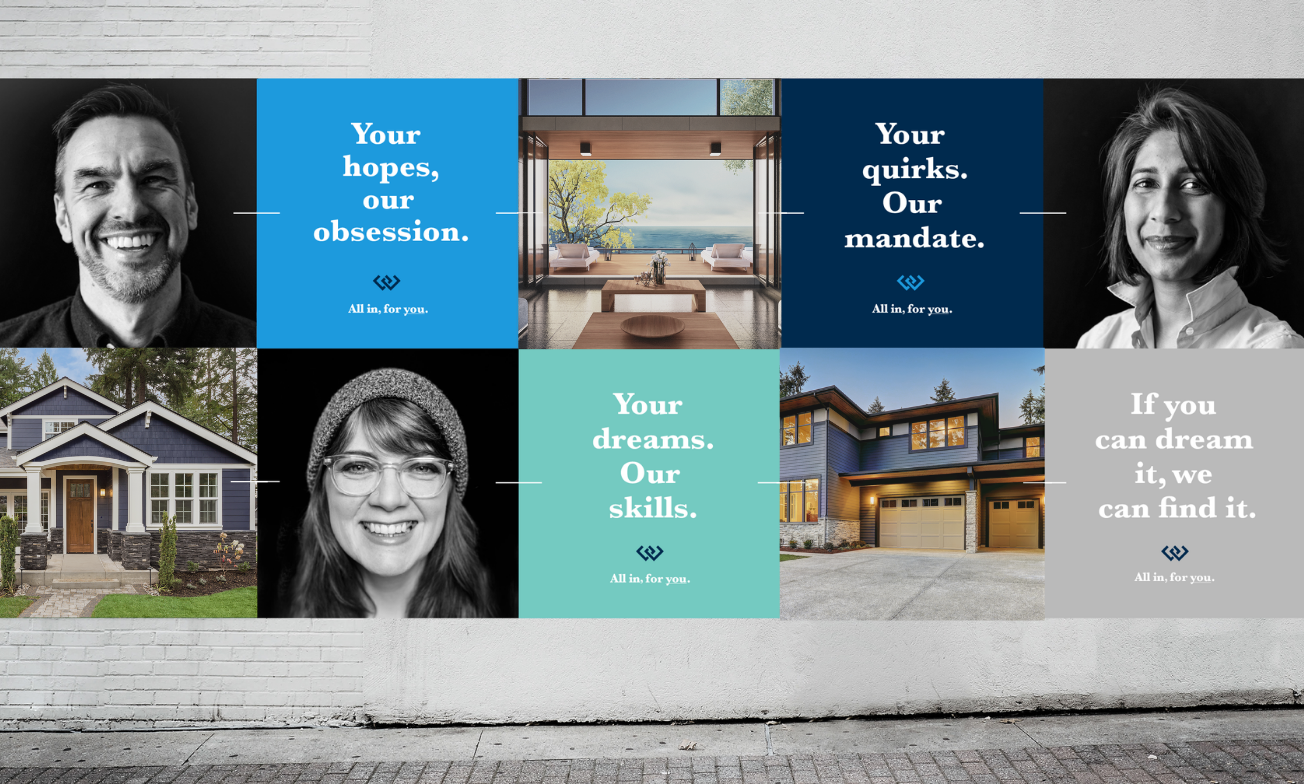 Windermere Real Estate has officially launched a new branding campaign on the heels of the company's brand refresh that was completed in 2018. The "All in, for you" campaign is the next step in bringing the refreshed Windermere brand to life by amplifying the company's unique "why".
Told, in part, through stories generated by actual Windermere agents, the "All in, for you" campaign sets out to illustrate Windermere's unique culture, and what has drawn both agents and clients to it for nearly 50 years.
"We're lucky to have a brand with such a rich legacy, but we have to continue to innovate and press forward," said Windermere president, OB Jacobi. "The brand refresh that we did last year was part one of Windermere's brand story; part two is about bringing our stories to life and showing our clients how we're 'all in', for them."
Development of the "All in, for you" campaign was led by Windermere Vice President of Marketing, Julie Dey, and Portland, OR-based global design firm, Ziba Design, whose clients include companies, such as FedEx, P&G, Adidas, REI, and Intel. Ziba started the year-long process by conducting interviews and holding focus groups with Windermere agents, franchise owners, and staff. They also interviewed past buyers and sellers to better understand the experience of working with a Windermere agent.
"We needed to speak directly with consumers to understand what people want, where real estate is headed, and the differentiated value that Windermere agents provide," said Rob Wees, Creative Director at Ziba, adding, "Real estate is an infrequent, emotional, and complicated process. And every experience is so different."
"In an era of technology and convenience, we wanted to show the public the real value of working with a Windermere agent—one that shows how compassion, expertise, advocacy and an over-commitment to service can help people through an incredibly important moment in their lives," said Wees.
Components of the "All in, for you" campaign include TV, print, digital marketing, out-of-home advertising, and partnerships with key media companies to create unique content opportunities. To kick-off the campaign, TV ads will begin running March 21 in the Seattle market.
"While some real estate companies are telling what is essentially a technology story about ones and zeroes, our story is more about connecting humans with their dreams. And it's a story we can't wait to tell," said Dey.

Posted in Selling by Windermere Guest Author 
By Michael Doyle
Have you ever wondered if your real estate agent understands what you are going through? They come into your house speaking confidently about your neighborhood and market trends. They have vendors ready to help you prepare your home for sale. But do they really think it's that easy? Do they understand the conversations that follow once they've left your dining room table? Have they lain awake at night in worry?
You might be surprised.
I've been a real estate agent for eight years and recently attempted to sell my condo. My income hadn't been what I'd planned; I was upside down and worried about the risks of holding onto it. I wanted less stress, so after months of consideration, I decided to sell.
Here's how it went down:
-I chose my agent and sat down for a meeting. "Are you willing to meet the market?" she asked? That wasn't easy to answer! The choices I'd made at purchase (lay out, upgrades, etc.) weren't as valuable in her eyes as I had anticipated. I tried to fight the urge to feel that my home was worth more than she did.
-We moved out of the condo and hired a great stager to "edit" what we'd left behind. What?! You don't like the black and white poster of John Lennon from my mother's Let It Be album?!
-We had handiwork done and a professional photographer shot some great images. My agent listed the property, but after only one day on the market without an offer, I was already anxious.
-Then the Homeowners Association sued the developer (long story, but in short: not good for sales) and convinced me that I was definitely not prepared to meet the market. So, we removed the home from the market, and moved back in.
-Then, the phone rang. Agents wanted to show it, earnestly offering "My clients aren't concerned with litigation." Surprise: I didn't believe it. Right or wrong, I suspected that these well-meaning people would not make it all the way to closing. I wasn't ready to board that roller coaster.
And, it felt like the market was finally turning.
A property that had once seemed like a heavy weight began again to look like home; like a place that – from a post-tax perspective – is only marginally more costly than renting. So, here I am, happy with my decision to stay in my home and reminded what it's like to walk in my sellers' shoes – a win-win situation all the way around.
Michael Doyle is an agent with Windermere Real Estate's Lakeview office in Seattle, WA.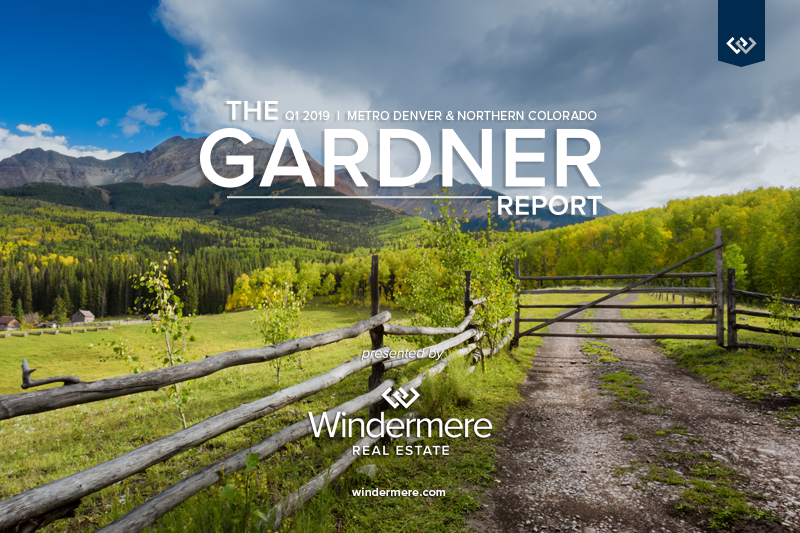 The following analysis of the Metro Denver & Northern Colorado real estate market (which now includes Clear Creek, Gilpin, and Park counties) is provided by Windermere Real Estate Chief Economist Matthew Gardner. We hope that this information may assist you with making better-informed real estate decisions. For further information about the housing market in your area, please don't hesitate to contact your Windermere agent.
ECONOMIC OVERVIEW
Colorado's economy continues to grow with the addition of 44,800 new non-agricultural jobs over the past 12 months. This represents a reasonable growth rate of 1.7%. As stated in last quarter's Gardner Report, we continue to see a modest slowdown in employment gains, but that's to be expected at this stage of the business cycle. I predict that employment growth in Colorado will pick back up as we move through the year, adding a total of 70,000 new jobs in 2019, which represents a growth rate of 2.6%.
In February, the state unemployment rate was 3.7%, up from 2.9% a year ago. The increase is essentially due to labor force growth, which rose by more than 84,000 people over the past year. On a seasonally adjusted basis, unemployment rates in all the markets contained in this report haven't moved much in the past year, but Boulder saw a modest drop (2.7%), and the balance of the state either remained at the same level as a year ago or rose very modestly.
HOME SALES
In the first quarter of 2019, 11,164 homes sold — a drop of 3% compared to the first quarter of 2018 and down 13.5% from the fourth quarter of last year. Pending sales in the quarter were a mixed bag. Five counties saw an increase, but five showed signs of slowing.
The only market that had sales growth was Adams, which rose 4.9%. The rest of the counties contained in this report saw sales decline, with a significant drop in the small Park County area.
I believe the drop in the number of home sales is partially due to the significant increase in listings (+45.6%), which has given would-be home buyers more choice and less need to act quickly.
As mentioned above, inventory growth in the quarter was significant, but I continue to believe that the market will see sales rise. I expect the second half of the year to perform better than the first.
HOME PRICES
Home prices continue to trend higher, but the rate of growth is tapering. The average home price in the region rose just 2.1% year-over-year to $456,243. Home prices were .3% higher than in the fourth quarter of 2018.
I anticipate that the drop in interest rates early in the year will likely get more buyers off the fence and this will allow prices to rise.
Appreciation was again strongest in Park County, where prices rose 21.9%. We still attribute this rapid increase to it being a small market. Only Clear Creek County experienced a drop in average home price. Similar to Park County, this is due to it being a very small market, making it more prone to significant swings.
Affordability remains an issue in many Colorado markets but that may be offset by the drop in interest rates.
DAYS ON MARKET
The average number of days it took to sell a home in Colorado rose five days compared to the first quarter of 2018.
The amount of time it took to sell a home dropped in two counties — Gilpin and Park — compared to the first quarter of 2018. The rest of the counties in this report saw days-on-market rise modestly with the exception of the small Clear Creek market, which rose by 26 days.
In the first quarter of 2019, it took an average of 42 days to sell a home in the region, an increase of four days compared to the final quarter of 2018.
Job growth drives housing demand, but buyers are faced with more choice and are far less frantic than they were over the past few years. That said, I anticipate the late spring will bring more activity and sales.
CONCLUSIONS
This speedometer reflects the state of the region's real estate market using housing inventory, price gains, home sales, interest rates, and larger economic factors.
For the first quarter of 2019, I have moved the needle a little more in favor of buyers. I am watching listing activity closely to see if we get any major bumps above the traditional increase because that may further slow home price growth; however, the trend for 2019 will continue towards a more balanced market.
As Chief Economist for Windermere Real Estate, Matthew Gardner is responsible for analyzing and interpreting economic data and its impact on the real estate market on both a local and national level. Matthew has over 30 years of professional experience both in the U.S. and U.K.
In addition to his day-to-day responsibilities, Matthew sits on the Washington State Governors Council of Economic Advisors; chairs the Board of Trustees at the Washington Center for Real Estate Research at the University of Washington; and is an Advisory Board Member at the Runstad Center for Real Estate Studies at the University of Washington where he also lectures in real estate economics.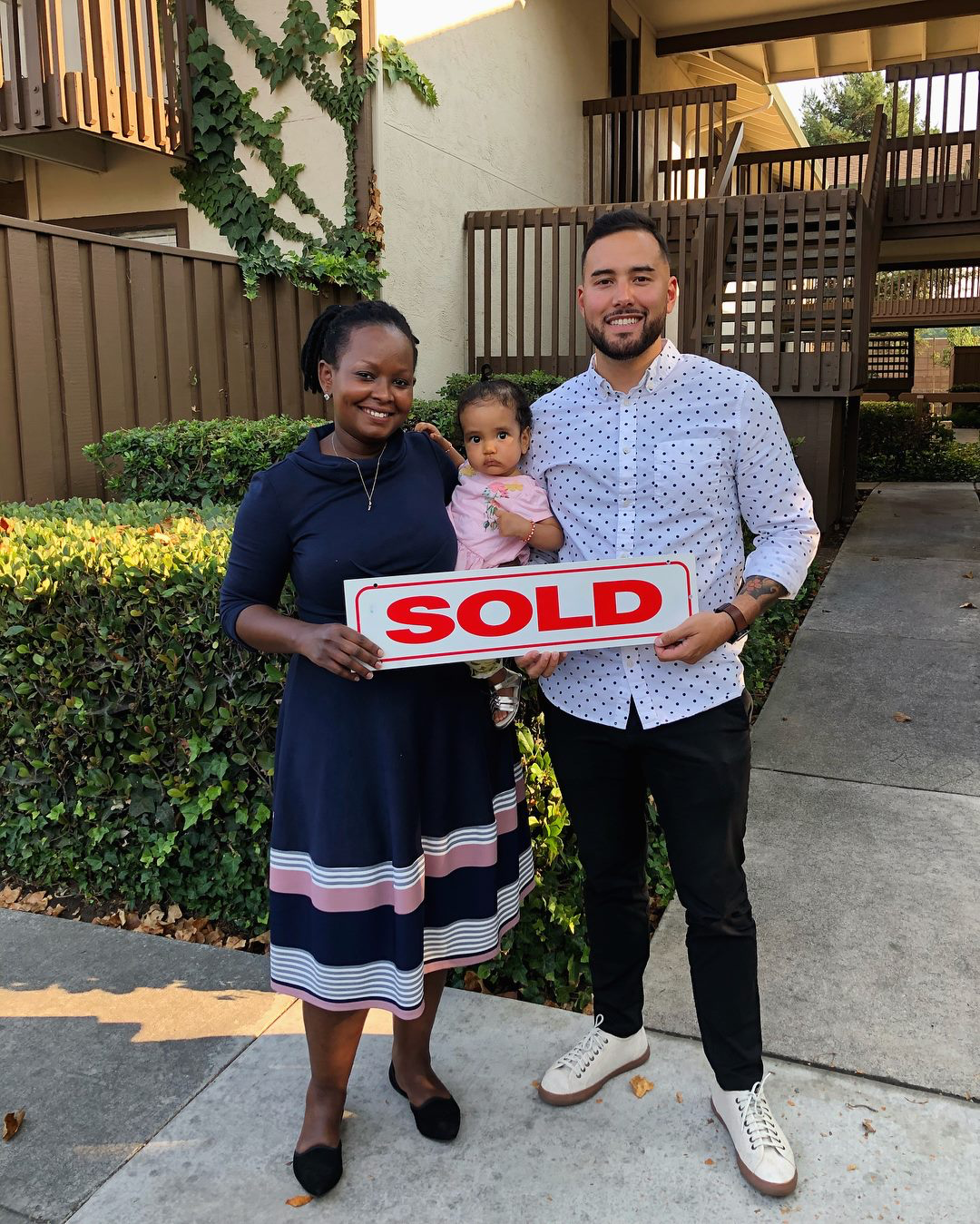 Owning a home provides a sense of security, but the process of building towards homeownership can be overwhelming. There are obstacles that can get in the way of even the most diligent prospective buyer. For Zaharra Karungi, there were dozens of opportunities to see her dream of buying a home for herself and her daughter waylaid. But with hard work, a thoughtful lender, a baseball game, and a determined Windermere agent, Karungi is now a proud homeowner in Antioch, California.
Windermere agent James Quintero didn't suspect he'd walk away with a new client when he attended "Windermere Real Estate Agent Appreciation Day" at an Oakland Athletics baseball game earlier this year. But that's exactly what happened when he ran into mortgage lender Bret Henly who told him about someone special he was working with by the name of Zaharra Karungi.
Karungi's pathway to homeownership was a winding one. Arriving from Uganda at the age of 25 with the goal of studying to become a nurse, Karungi began her time in the United States with next to nothing. A generous friend allowed her to stay in their walk-in closet for eight months, but Karungi brought with her little more than a few changes of clothes and basic necessities. While studying for her nursing degree, Karungi babysat and worked odd jobs to afford her continuing education, finally emerging as a certified vocational nurse in 2013. Now a single mother with a precocious 10-month-old daughter named Victoria, Karungi was in search of the next step of security in pursuing her American Dream: owning a home.
Finding herself frustrated with the agent she'd been working with, and outbid on multiple homes, Karungi was connected with Windermere agent James Quintero with the assistance of Henly. After attending an open house at an Antioch, CA, condo, Quintero helped Karungi make a well-constructed offer to the sellers. Despite two other offers, her bid was chosen. At Quintero's behest, the sellers took extra care to ensure the home was unimpeachably safe for a 10-month-old like Victoria.
On August 9 of this year, Karungi received the keys to her new two-bedroom, two-bathroom condo – the same day that she officially gained her United States citizenship. Owning a home provides a sense of security and confidence, knowing that whatever happens, you have a refuge where you lay your head at night. For Zaharra Karungi it was a long time coming.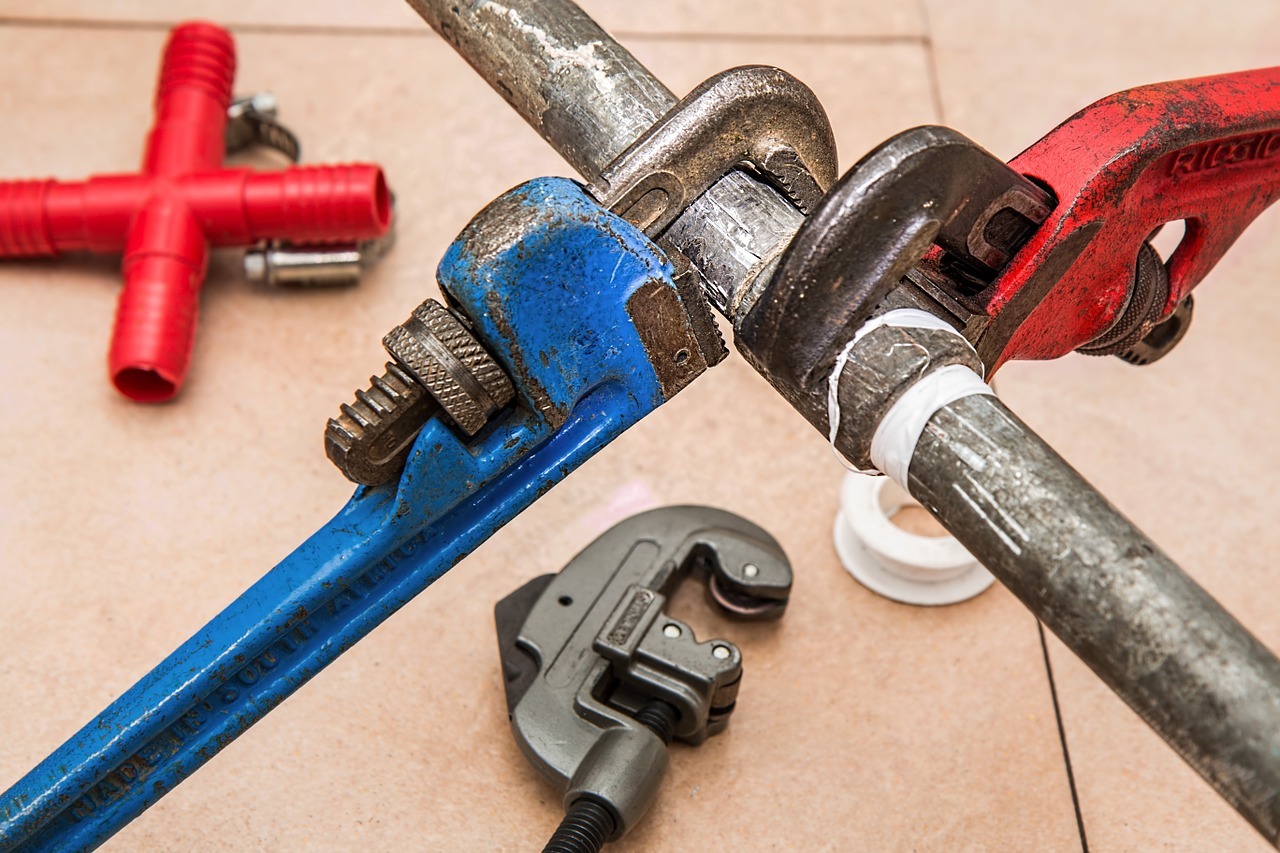 For many people, a home inspection is a hurdle that has to be overcome during the process of buying or selling a home. But, in fact, it can be a useful tool for buyers, sellers or anyone who plans to get the greatest possible value from their home.
Find out if the house you are selling has "issues"
When you're selling a house, a pre-sale inspection can be particularly useful. By uncovering any potential problems your house may have, an inspection can give you an opportunity to address them before your first prospective buyer arrives.
In any market, a pre-sale inspection can give your home a competitive edge. Potential buyers are likely to find the kind of detailed information an inspection provides reassuring—and are encouraged to give your home a closer look.
Get to know a house before you buy it
A home is a major investment and, for many people, the greatest financial asset they have. With so much at stake, it makes sense to do what you can to protect your financial interest. Getting an inspection is a smart, simple way to do just that.
When you make a written offer on a home, insist that the offer provide that your contract is contingent on a home inspection conducted by a qualified inspector. You'll have to pay for the inspection yourself, but an investment of a few hundred dollars could save you thousands of dollars and years of headaches. If you're satisfied with the results of the inspection and are assured that the home you're purchasing is in good shape, you can proceed with your transaction, confident that you are making a smart purchase.
When does a home inspection make sense?
In addition to routine maintenance and pre-sale inspections, there are a number of circumstances in which a home inspection could greatly benefit a homeowner. If you are not sure, here are a few simple questions to ask yourself:
· Was your home inspected when you bought it? If not, an inspection would be beneficial even if your home was a new construction at sale.
· Are you an older homeowner who plans to stay in your home?  If so, it makes sense to hire a professional who can inspect difficult-to-reach areas and point out maintenance of safety issues.
· Do you have a baby on the way or small children? An inspection can alert you to any potential safety issues that could possibly affect a growing family, such as mold, lead or structural problems. If mold or lead is present, be sure to rely on technicians or labs with specialized training in dealing with these conditions.
· Are you buying a home that's under construction? You may want to hire an inspector early on and schedule phased inspections to protect your interest and ensure that the quality of construction meets your expectations.
What doesn't your home inspection cover?
For a variety of reasons, some homes will require special inspections that are not covered by a typical home inspection. A specialty inspection might include such items as your home's sewer scope, septic system, geotechnical conditions (for homes perched on steep slopes or where there are concerns regarding soil stability) or underground oil storage tank. If you have any questions about whether or not your home needs a specialty inspection, talk to your real estate agent.
Hire a professional
If you decide to hire a home inspector, be sure they're licensed in your state. They should be able to provide you with their license number, which you can use to verify their status with the appropriate government agency. It's also helpful to ask for recommendations from friends and family members. Even among licensed and qualified home inspectors, there can be a difference in knowledge, performance and communication skills, so learn what you can before you hire a home inspector to ensure that you get the detailed inspection that you want.
What to ask your home inspector
Ask the right questions to make sure you are hiring the right professional for the job.
What does your inspection cover?
Insist that you get this information in writing. Then make sure that it's in compliance with state requirements and includes the items you want to be inspected.
How long have you been in the business?
Ask for referrals, especially with newer inspectors.
Are you experienced in residential inspections?
Residential inspection in a unique discipline with specific challenges, so it's important to make sure the inspector is experienced in this area.
Do you make repairs or make improvements based on inspection?
Some states and/or professional associations allow the inspector to perform repair work on problems uncovered in an inspection. If you're considering engaging your inspector to do repairs, be sure to get referrals.
How long will the inspection take?
A typical single-family dwelling takes two to three hours.
How much will it cost?
Costs can vary depending upon a variety of things, such as the square footage, age, and foundation of the house.
What type of report will you provide and when will I get it?
Ask to see samples to make sure you understand his or her reporting style. Also, make sure the timeline works for you.
Can I be there for the inspection?
This could be a valuable learning opportunity. If your inspector refuses, this should raise a red flag.
Are you a member of a professional home inspector association? What other credentials do you hold?
Ask to see their membership ID; it provides some assurance.
Do you keep your skills up to date through continuing education?
An inspector's interest in continuing education shows a genuine commitment to performing at the highest level. It's especially important in older homes or homes with unique elements.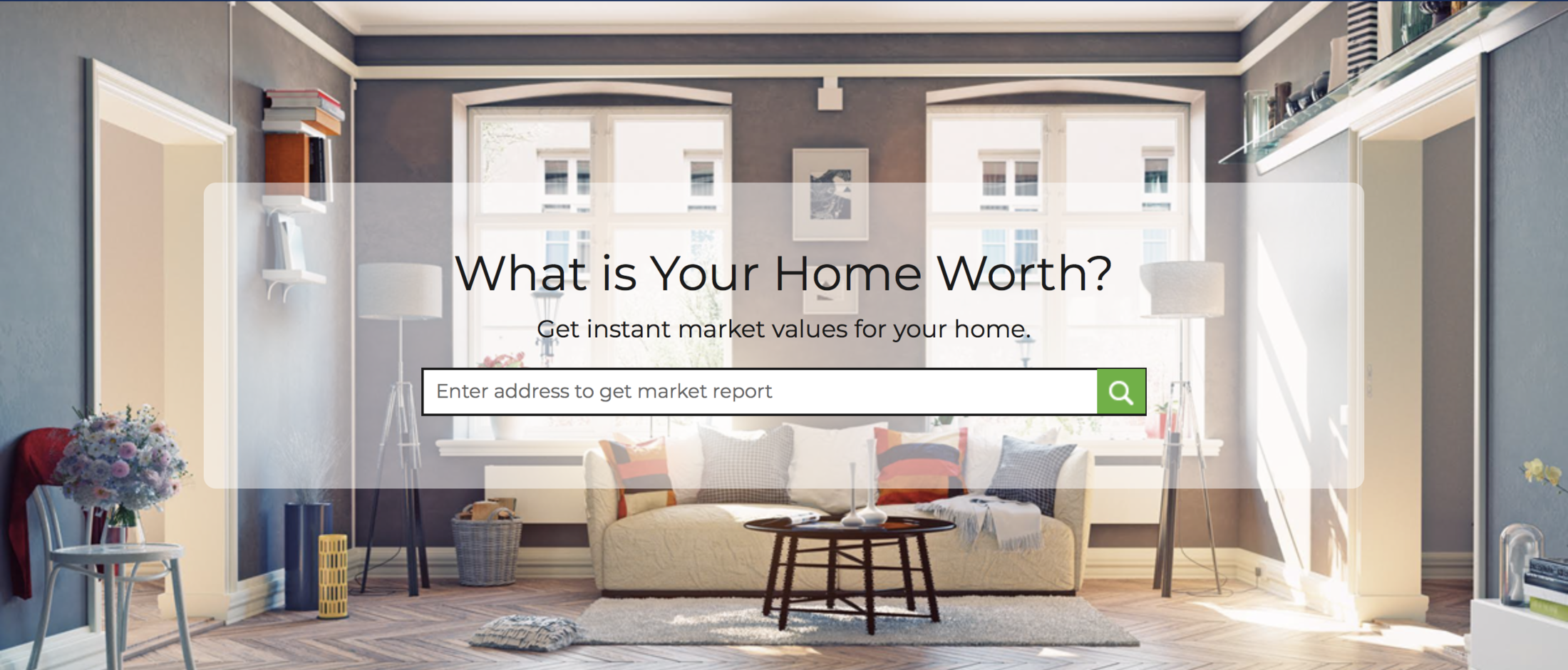 What's your home worth?
It seems like a simple question, but finding that answer is more complicated than it might seem. Sites like Zillow, Redfin, Eppraisal, and others have built-in home valuation tools that make it seem easy, but how accurate are they? And which one do you believe if you get three different answers? Online valuation tools have become a key part of the home buying and selling process, but they've been proven to be highly unreliable in certain instances. One thing that is for certain is that these valuation tools have reinforced that real estate agents are as vital to the process of pricing a home as they ever were – and maybe even more so now.
There are limitations to every online valuation tool. Most are readily acknowledged by their providers, such as Zillow's "Zestimate", which clearly states that it offers a median error rate of 4.5%, with varying accuracy across the country. That may not sound like a lot, but keep in mind that amounts to a difference of about $31,500 for a $700,000 home. For Redfin and Trulia, there are similar ranges in results. When you dig deeper into these valuation tools, it's no small wonder that there are discrepancies, as they rely on a range of different sources for information, some more reliable than others.
Redfin's tool pulls information directly from multiple listing services(MLSs) all over the country. Others negotiate limited data sharing deals with those same services, but also rely on public records, as well as homeowners' records. This can lead to gaps in coverage. These tools can serve as helpful pieces of the puzzle when buying or selling a home, but the acknowledged error rate is a reminder of the dangers of relying too heavily on them.
Home valuation tools can be a useful starting point in the real estate process, but nothing compares to the level of detail and knowledge a professional real estate agent offers when pricing a home. An algorithm can't possibly know about a home's unique characteristics or those of the surrounding neighborhood. They also can't answer your questions about what improvements you can make to get top dollar or how buyer behaviors are shaping the market. All of this – and more – can only be delivered by a trusted professional whose number one priority is getting you the best price in a time frame that meets your needs.
If you're curious what your home might be worth, Windermere offers a tool that provides a series of evaluations about your property and the surrounding market. And once you're ready, we're happy to connect you with a Windermere agent who can clarify this information and perform a Comparative Market Analysis to get an even more accurate estimate of what your home could sell for in today's market.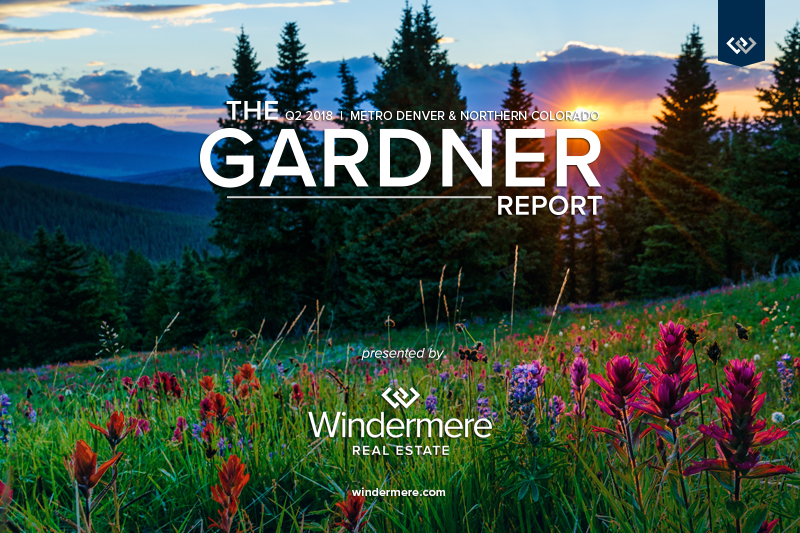 The following analysis of the Metro Denver & Northern Colorado real estate market (which now includes Clear Creek, Gilpin, and Park Counties) is provided by Windermere Real Estate Chief Economist Matthew Gardner. We hope that this information may assist you with making better-informed real estate decisions. For further information about the housing market in your area, please don't hesitate to contact your Windermere agent.
ECONOMIC OVERVIEW
Colorado continues to see very strong job growth, adding 72,800 non-agricultural jobs over the past 12 months—an impressive increase of 2.7%. Through the first five months of 2018, the state added an average of 7,300 new jobs per month. I expect this growth to continue through the remainder of the year, resulting in about 80,000 new jobs in 2018.
In May, the state unemployment rate was 2.8%. This is slightly above the 2.6% we saw a year ago but still represents a remarkably low level. Unemployment remains either stable or is dropping in all the markets contained in this report, with the lowest reported rates in Fort Collins and Boulder, where just 2.2% of the labor force was actively looking for work. The highest unemployment rate was in Grand Junction, which came in at 3.1%.
HOME SALES ACTIVITY
In the second quarter of 2018, 17,769 homes sold—a drop of 2.4% compared to the second quarter of 2017.
Sales rose in 5 of the 11 counties contained in this report, with Gilpin County sales rising by an impressive 10.7% compared to second quarter of last year. There were also noticeable increases in Clear Creek and Weld Counties. Sales fell the most in Park County but, as this is a relatively small area, I see no great cause for concern at this time.
Slowing sales activity is to be expected given the low levels of available homes for sale in many of the counties contained in this report. That said, we did see some significant increases in listing activity in Denver and Larimer Counties. This should translate into increasing sales through the summer months.
The takeaway here is that sales growth is being hobbled by a general lack of homes for sale, and due to a drop in housing demand.
HOME PRICES
With strong economic growth and a persistent lack of inventory, prices continue to trend higher. The average home price in the region rose
9.8% year-over-year to $479,943.
The smallest price gains in the region were in Park County, though the increase there was still a respectable 7%.
Appreciation was strongest in Clear Creek and Gilpin Counties, where prices rose by 28.9% and 26%, respectively. All other counties in this report saw gains above the long-term average.
Although there was some growth in listings, the ongoing imbalance between supply and demand persists, driving home prices higher.
DAYS ON MARKET
The average number of days it took to sell a home remained at the same level as a year ago.
The length of time it took to sell a home dropped in most markets contained in this report. Gilpin County saw a very significant jump in days on market, but this can be attributed to the fact that it is a very small area which makes it prone to severe swings.
In the second quarter of 2018, it took an average of 24 days to sell a home. Of note is Adams County, where it took an average of only 10 days to sell a home.
Housing demand remains very strong and all the markets in this report continue to be in dire need of additional inventory to satisfy demand.
CONCLUSIONS
This speedometer reflects the state of the region's real estate market using housing inventory, price gains, home sales, interest rates, and larger economic factors.
For the second quarter of 2018, I have moved the needle very slightly towards buyers as a few counties actually saw inventories rise. However, while I expect to see listings increase in the coming months, for now, the housing market continues to heavily favor sellers.
Matthew Gardner is the Chief Economist for Windermere Real Estate, specializing in residential market analysis, commercial/industrial market analysis, financial analysis, and land use and regional economics. He is the former Principal of Gardner Economics, and has more than 30 years of professional experience both in the U.S. and U.K.