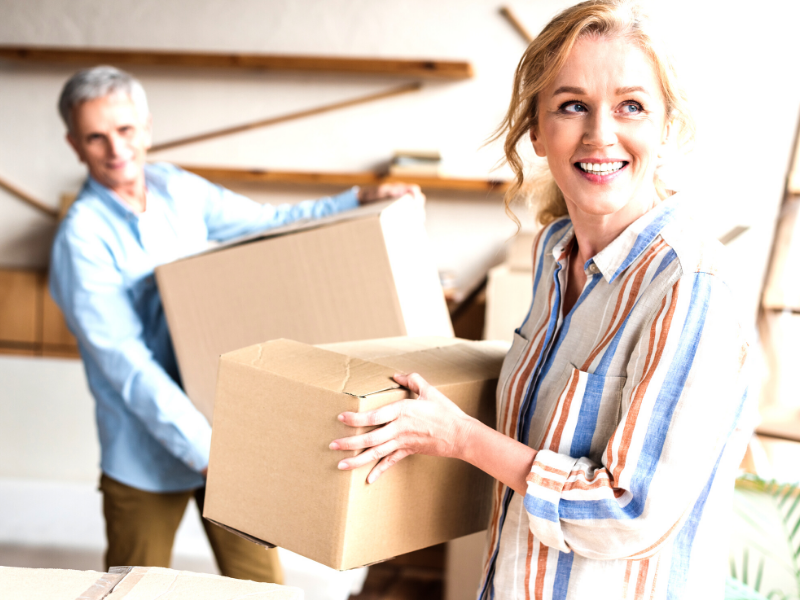 Choosing less space often has to do with a desire to live a life that's simpler. Whether you're retiring, want an eco-friendly, low-maintenance lifestyle or your children have moved away, downsizing might be the best option for you. Here are the advantages and disadvantages to consider before making the move and questions to begin asking yourself now.
Advantages
Increased cash flow.

Spend less on your mortgage payment and you are likely to have more money leftover for other needs or desires.

More time.

Cut down on time spent on household chores such as cleaning and vacuuming which will leave you with more hours in the day to do something more enjoyable.

Lower utility bills.

Costs less to heat and air condition a small home.
Less square footage decreases the amount of energy expended.
Reducing energy is better for the environment and it helps keep your home green.

Reduced consumption.

You would likely buy less since you won't necessarily have the room for it.

Minimized stress.

Homeowners who have successfully downsized often feel happier because they are no longer overwhelmed by the demands of a larger home.
Less responsibility, less housework to do, increased cash flow and flexibility equals reduced stress.
Disadvantages
Fewer belongings.

Moving into a smaller space would mean you would need to give away or donate furniture, books, kitchen supplies, etc.

No room for guests.

Hosting holiday dinners might be out of the question for a smaller home.

Space restrictions.

Less space means you could feel cramped.

Lifestyle changes.

For long-term homeowners, downsizing means changing a lifestyle.
What to consider before downsizing
These questions are important to ask yourself because for some people, downsizing may not be the best option for them.
Does size matter to me?

Think about how much your identity is wrapped in your house.
Is it important for you to have a guest room or a second bathroom?

Will I miss some important things about a more spacious home?

Will moving into a smaller home feel like a step backward?

How will other life events affect my living in a smaller home?

Consider possible scenarios you may not expect such as adult children moving back home or if you plan to add a child.
The Cost to You
How much will it cost to replace the furniture?

When you move into a smaller home this means you might have to downsize your furniture to make room.

How much will it cost to get rid of the stuff I don't need or won't fit?

It's important to have a plan for how you're going to sell or give away the things you don't need.
Consider things like family heirlooms. What are you going to do with all your antiques or treasures that your smaller home may not be able to accommodate?

How much will I get when I sell my current home, and will it help cover the cost of buying my new home?
If you know downsizing is the right option for you, you're probably asking yourself, "Should I sell first and then buy or buy first and then sell?". When you're ready to discuss your options, talk to an experienced Real Estate Agent. 

When it comes time to decide if you want to downsize, there are many thoughts and emotions that go speeding through your mind.  Maybe you have already decided this is your home for the rest of your life.  Your home was the perfect place to meet your needs when you were in an earlier cycle of life, and will be the ideal home for all the events you see happening in your next.  If you are inclined to feel that the home you currently reside in may have out-lived its purpose, you may be struggling with some of the same thoughts and emotions my husband and I had when it came to the emotional and financially sensitive decision to downsize.
In our situation, we loved our home.  It provided everything we needed to raise our three children, plus nurture all the creative projects that identified who we are as a family as well as individuals.  Our children were just like anyone else's; loved, individually different, all requiring unique activities and space to help them grow, using their special talents.  We loved our neighborhood and took an active part in making it an extension of our home.  Considering that it had been our home for decades, deciding to leave was emotionally difficult.
We spent several years before we knew we would leave our home, looking at all the smaller options.  We wondered, should we look for another single-family dwelling or check out other options like co-ops of condominiums?  My husband had spent the past twenty-five years mowing our lawn and was quite willing to remove this task from his plate. I, on the other hand, still loved to garden.  Was there a living environment that could satisfy both these expectations?  We looked at every condominium and every co-op in the Seattle area for five years, but nothing really fulfilled everything we needed.  We had a list of features including a garden spot, closets and efficient use of space, etc. I'm an Old World Charm lady, but guess what?  Back in the 20's ladies only owned three dresses.  Let's just say, I own a few more outfits than most pre-war closets were meant to hold.  So the search went on.
When our children finally reached their 20's and my husband wanted to retire, we knew it was time to make our move.  Like I said, everyone loves their children, but not all the party time we now came to expect in our rec room every weekend.  We were ready to have a space of our own, and it was time for our kids to begin their next cycle in-life.  We also had too much of our finances tied up in a 3,000 square foot house, when in reality we needed less and could save more.  We had to leave the home we had dedicated to making our unique expression of who we were, and leave very soon.
If any of this sounds familiar, your task will be a little easier than it seems! Here is some practical advice for making your move:
Define your needs:  Narrow down your ideal needs. Start by deciding if you want a single-family versus multi-family dwelling. Consider your price range, and then space needs.
Downsize: We downsized a bit more than we should have, but we sure got rid of lots of items we collected over the past 25 years.  Some of them were special to me.  I'd purchased a beautiful wood serving tray at a yard sale with one of my dearest friends.  I had to borrow money from her to buy it.  I solved the problem by giving it to her when we moved, and I still see it when I visit her home.  My children took much of the furniture they had a special connection to, and my nephew, who spent nearly every Christmas sitting in his favorite red chair, can now enjoy it in his own home.
Let go: Leaving the neighborhood and all our lifelong friends was the most difficult process, I think, of all the decisions we had to make.  We still see them, but as I'm writing this my eyes are tearing up.  It's hard to re-visit my old neighborhood and see my old home cared for in a different way than I had lovingly done for twenty-five years.  But it does give us plenty of things to talk about with old friends when we get together.
What did we end up doing?  We moved into a vintage 1930's co-op in a walkable part of town.  I have just the right amount of gardening space that I share with other owners.  We have made wonderful friends with some of our neighbors and get together frequently for happy hour and spur-of-the-moment gatherings.  It's a different lifestyle than we had before but, believe me, there are plus sides. In no way will any of our three wonderful, adored, adult children ever be able to move back home, since we now live in an 850-square-foot co-op with every space used on a daily basis.  There were times when I wouldn't go in one of my rooms in our old home for several weeks.  This is not a problem now.  Yes, maybe it's too small, but we can always move into a larger place if and when we feel it's time.
What are your questions about downsizing your home? What features do you require to live in a smaller, more efficient dwelling?
Pat Eskenazi is a Windermere veteran, working in marketing for the past 12 years. She has lived in Seattle since 1952.  Her favorite place to walk is along Golden Gardens, and she especially loves to climb the stairs up to the Sunset Hill neighborhood where she lived with her 3 children and husband for 25 years.